Jeff and Kelly Ohlms recently stopped by FLEET FEET with a very tasty fruit pizza in hand (Yes, fruit pizza!  Google it.) to thank the Fit Professionals who helped them accomplish their most recent - and most extreme - running feat…the Goofy Challenge. 
A year ago, Jeff and Kelly were at Disney World with their two young children and Kelly's parents.  As a family, they participated in the 5k race and Jeff and Kelly also ran the half marathon.   On Sunday of that weekend they were in Epcot watching the finish of the full marathon when Jeff turned to Kelly and said, "I want to do that."  And so their adventure began…
But Jeff and Kelly didn't stop at "just" 26.2 miles.  They decided to be really goofy!  The Goofy Challenge consists of running the Walt Disney World Half Marathon on Saturday and then running the FULL marathon the very next day.   Training for a full marathon takes time.  Training for back-to-back days of endurance racing while raising a family takes a whole lot of time, an abundance of energy, and sheer determination! 
On Saturday, January 12, Jeff and Kelly completed the half marathon together.  At the start of Sunday's marathon they agreed to each run their own marathon.  Fate intervened, however, and they got to finish their journey the same way it started.  "We ended up finishing together," said Kelly.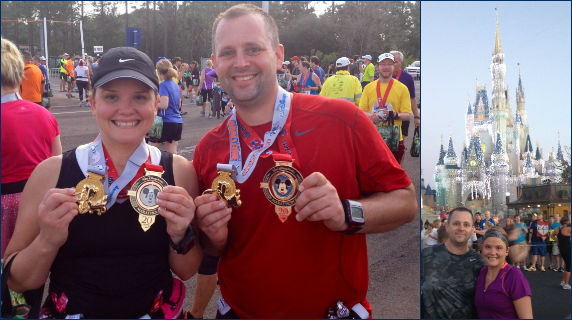 The Ohlms family has plans to continue running and doing other active events together.  In Kelly's words, "You always need to have goals for the future!"  The Ohlms' 8 year-old son is already looking forward to completing his first Disney Half Marathon as soon as he is old enough - and the FLEET FEET Fit Professionals look forwarding to helping provide him him with the equipment and motivation to enjoy his training and race as much as his parents.  And maybe, just maybe, he'll turn out to be goofy, too.