They said it would be nine loops of the park. Actually, they said it would be two small loops followed by six big loops followed by one final small loop. And it was.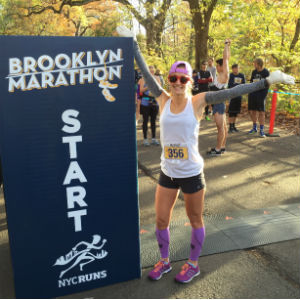 It was the Brooklyn Marathon, twenty-six-point-two miles wholly encapsulated by Prospect Park. 
Situated across the East River from Lower Manhattan, Prospect Park is the viridescent gem of Brooklyn. It was born in 1867, the child of Frederick Law Olmsted and Calvert Vaux, the creative fathers behind Central Park, and Montgomery Cliff—the From Here to Eternity guy—was buried there when he died, because, in general, it's not recommended to be buried any earlier than that. It's easy to get to Prospect Park. From Union Square, you simply hop on the Q train towards Coney Island and exit at the eponymous stop. Or you can cab it across the Brooklyn Bridge.
But the subway is the way to go. Feels more authentic. 
Because the race didn't begin until a rather cavalier 8:30 in the morning, I slept until 5:45 and slothed around the room for a full forty-five minutes before hailing an elevator to the hotel lobby. The race was small—capped at five hundred runners—and offered the novel luxury of race day packet pick-up. This was a first for me—at least, for a marathon—and an unconventionality that resulted in several mini panic attacks during the thirty steps between the hotel room and the elevator, the most notable occurring halfway down the hall, when I stopped and began beating my chest with flat palms, like a bongo drummer in search of a corresponding crunch of waxy paper. My bib number! Then I remembered. Race morning pick-up. I'd be heading to the race with no bib and no chip. I may as well have been naked.
Tom and I walked across the street to the Union Square subway station and waited for the Q train. It was early on a Sunday morning, and only a few other passengers speckled the downtown platform. Two of them caught our attention. They were dressed in the transient derelict-chic unique to marathoners before a race. Shabby giveaway clothes layered upon increasingly costly running gear, each stratum more expensive and more technical than the last, like a sartorial nesting doll. Tom and I looked at each other. 
"Do you think they're going to the race?" he asked, tipping his head in their direction. 
I looked at their shoes. High-cushioned. Well-worn. "Yes." 
He approached them and asked if they were, indeed, on their way to the Brooklyn Marathon. They were. They had driven up the night before from Saratoga. This would be their first marathon. 
"You picked a heckuva first marathon," I commented.
"Oh, yeah?" They looked surprised.
"Well, I mean, nine loops of a park isn't conventional."
"Do you think that's bad?"
I totally did.
"No, I think it will be good!" I said.
The Q train arrived, and twenty-five minutes later we sprouted from beneath the Brooklyn streets into the crisp sunshine of a November morning. We followed the handful of well-layered runners percolating into the park. We didn't know exactly where the start line was. As it turned out, neither did any of the other runners we were following. But despite the parade of the blind leading the blind, we landed on the correct street cutting through the center of the park—aptly named Center Street—stopped at a porta-potty along the way, and scurried to the packet pick-up tent. I was worried about lines, and so we had allowed extra time at the race site. We didn't need it.
I was the line.
"Where's the nearest coffee shop around here?" Tom asked as I purchased an official Brooklyn Marathon sweatshirt. ("Fifty dollars? That sweatshirt is definitely worth fifty dollars," he satirized as I held up my new swag.)
"Connecticut Coffee," the woman replied. "About a half-mile away. Plus, they have bathrooms!"
Desiring not to freeze in the hour before the race, we followed her directions to Connecticut Coffee, which was exactly a half-mile away... if you walked a half-mile twice. Tom ordered an egg-and-cheese sandwich while I feasted on a Cherry Lime GU Roctane.
"I think we should Uber back to the race," I said, looking at my watch. I didn't want to cut it too close.
"Really?"
"Yep. At this point, every step counts."
I used the bathroom once more—access to which required a small key dangling from a giant ladle—and Tom summoned the Uber. Eighty seconds later, we were back at the race start.
Which, I might add, was corral-less.
For behemoth races—Chicago, Boston, even your average Rock 'n' Roll—corrals are the longsuffering teacher reminding little Johnny to wait his turn before rushing out to recess. They're like Crate and Barrel for race directors. It's how they keep us organized.
But small races, in refreshing anarchy, forego such organization. In small races, such as the Brooklyn Marathon, it is part honor system, part every-man-for-himself. The one-percent-body-fat guy in miraculously short shorts lines up seamlessly next to the pony-tailed girl with the iPhone 6+ strapped to her bicep and wearing a Hello Kitty hoodie. Small races, stripped of the etiquette of corrals, are delightfully guerilla.
After a few anecdotal announcements from the race director, including the identification of a half dozen runners who had run every Brooklyn Marathon since its inception five years earlier, we crossed our hearts and sang the national anthem and, then, we were off.
The race provided rubber bands to help keep track of the loops. "Everyone has his own system," the lady at the packet pick-up tent had said, "but I usually just take off a rubber band at the end of each loop." For my part, I decided to use rubber bands for only the six big loops. I figured I could manage the small loops without assistance.
I was wrong.  
"Wait… Are we supposed to turn right now for the big loops or left for one more small loop?" I asked the girl running next to me.
"We have to go left one more time—" she pointed at the giant sign that read, TURN LEFT TWO TIMES, TURN RIGHT SIX TIMES. "The first loop doesn't count as a loop."
Made sense. "Ah. I've got it. Sorry. I'm not good with math. Like counting."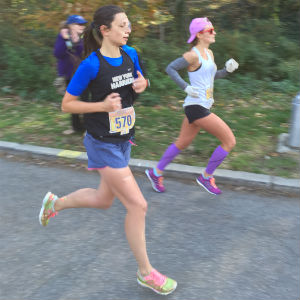 My new companion's name was Nikki. She was from the Netherlands, and her husband was a scientist at NYU. The two of them had moved to New York four years ago. Nikki and I ran together for the first ten miles, covering every topic from favorite places to eat in New York to the European perception of American politics to current racial tension in the U.S. to a global comparison of women's rights.
You know, small talk.
"So… when is this big hill and how big is it?" I asked as we turned right to tackle the first of our six big loops.
"It's coming up now," she said. "It's at the beginning of this loop."
I had heard nightmare reviews of this hill. Yes, there was only one hill, but you had to tackle it six times. I would be lying if I said I wasn't worried.
However, I am pleased to report that (most) of the worry was unjustified—at least, for anyone who has trained in Forest Park. If you can run in St. Louis, you can run the hill in Prospect Park. In fact, since the rest of the course is downhill-to-relatively-flat, as far as big hills are concerned, it's almost a piece of cake. (Almost.)
I am also pleased to report that instead of monotonous, the loops were delightful. The small loops were just over two miles long; the big loops were just over three. Each loop was quick, yet long enough to carve off a considerable chunk from the overall distance. For the first time ever, I didn't count the miles in a marathon. I simply counted the loops. I loved it.
I can't recommend the Brooklyn Marathon enough. It just might be my new favorite marathon. The course is beautiful and, despite the hill, fast. The volunteers feel like neighbors. The spectators—as you run by them time after time—become friends. And fellow participants become your running buddies—whether you pass them or they pass you. Plus, you get an awesome long-sleeve race t-shirt and a beanie. There are no lines… anywhere. And for a small, one-time fee of fifty dollars, you can purchase an official souvenir race sweatshirt that is totally worth it.
Smart runners go to Katz's Deli afterwards for the best pastrami sandwich in the history of the world.
And really smart runners take the subway.
(Feels more authentic.)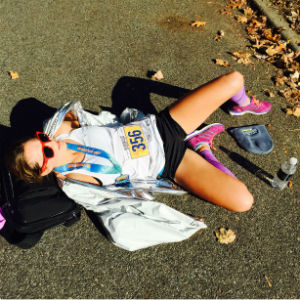 ---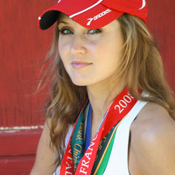 Amy L. Marxkors is the author of The Lola Papers: Marathons, Misadventures, and How I Became a Serious Runner and Powered By Hope: The Teri Griege Story.  Click here to receive Amy's weekly article via email.