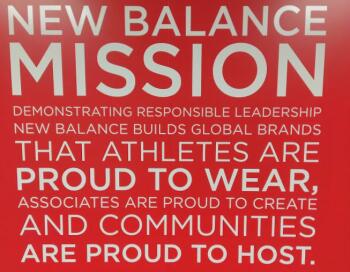 Being the owner of a running store brings with it some really cool perks.  Over the past twenty-five years I've crossed paths - and run paths! - with dozens of the most famous runners in the world.  I've attended some of the greatest running events as either a spectator or participant.  And I constantly get to see and play with the latest running gear, oftentimes months before that equipment will appear on store shelves.  No perk, however, has eclipsed the experience I had in October 2018, when New Balance took me to Shoe School.
Now 112 years old, Boston-based New Balance has been privately owned since 1972 by Jim and Anne Davis.  Being privately owned allows New Balance to operate a bit differently than if it were a publicly held business.  Perhaps the most obvious difference is that New Balance still manufactures some of their shoes in the United States, a process that doesn't maximize the bottom line but is clear evidence of the Jim and Anne's commitment to their employees and their region.  At Shoe School I learned how the New Balance shoes that we put on your feet at Fleet Feet come to be.  Frankly, I came away absolutely amazed at how much thought and effort goes into each and every pair of New Balance shoes.  (A deep dive into New Balance's fascinating past, present, and future is available here.)
Research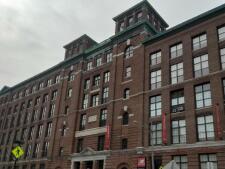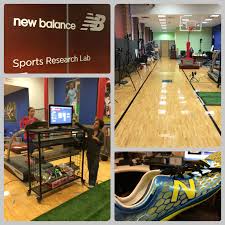 Running shoes are function-first footwear.  Above all else, they need to be protective and comfortable; step after step, mile after mile.  All running shoe manufacturers have research departments that keep up to date on the latest science regarding the human (e.g., biomechanics) and footwear (e.g., materials) sides of the equation.  Many companies have official partnerships with respected universities and professors to further advance their knowledge.  And some, like New Balance, invest heavily in their own research facilities.  Our first Shoe School class was a visit to the New Balance Sports Research Lab, which is located beneath their Lawrence, MA, factory.  The lab is 3,000 square feet filled with high-tech gizmos that can measure any movement an athlete can make and every type of punishment that you can inflict on a shoe.  During the visit I learned how New Balance uses the facility to both test current New Balance styles to ensure that they are performing as intended and conducting research on new technologies that will influence future designs.  In other words, the lab is helping you run more efficiently and comfortably, now, and working to keep you safe and comfy in the future.
The following video highlighting the Sports Research Lab was produced by GearGuides.
Design
After seeing how much attention New Balance pays to ensuring that their shoes function as intended and remain on the cutting edge of science, my class of five Shoe School pupils went upstairs and sat down with the the Designers of New Balance's technical running shoes.  I honor these folks with a capital "D" because they were introduced to us as the most important people in the company - and the reason for that introduction quickly became clear.  Their task is to make use of the newest data from the Sports Research Lab and elsewhere, knowledge of current and future manufacturing techniques, predictions of fashion trends for not-yet-here seasons, financial climate concerns, and a long list of other considerations into shoe designs that can be successfully and efficiently manufactured.  In short, nobody wants to buy a pretty shoe that doesn't perform...or an ugly shoe that does...or a shoe that doesn't deliver value...or a black shoe when bright colors or all the rage...or a shoe that can't be manufactured without defects...or... The Design team is tasked with avoiding all of those possibilities.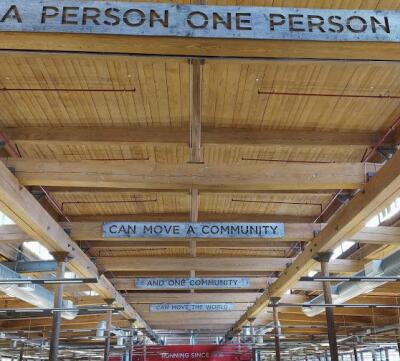 Manufacturing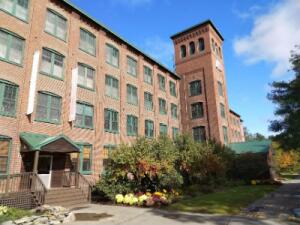 After a shoe is researched and designed, it's time to build it!  For our lesson in manufacturing we drove three hours north from Boston to Skowhegan, ME, home of one of New Balance's five U.S. factories.  They have two in Massachusetts and three in Maine.  New Balance's commitment to manufacturing or assembling 25% of their shoes domestically is the reason only New Balance can teach Shoe School.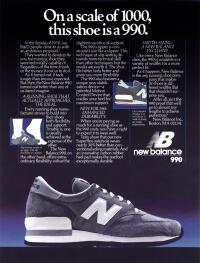 The Skowhegan factory specializes in producing New Balance's lifestyle shoes - and I was thrilled to learn that I would be building New Balance's 990, its most iconic shoe.  When first released in 1992, the original 990 was the first $100 running shoe to hit the market - and it earned that price.  It was the most technical running shoe ever built, featuring a pigskin and mesh upper, a motion control device, and the best foam cushioning available.  The 990v4 (actually, the 13th version of the 990) has since migrated to New Balance's lifestyle collection, but it continues to evidence New Balance's commitment to top-notch design, materials, and craftsmanship.
Five days a week in Skowhegan, five assembly lines combine to build approximately 600 pairs of shoes (50 cases holding 12 pairs each).  Their goal is to complete a shoe every 22.25 seconds; on a good day they can lower that number to 18 seconds.  Until I was immersed in the process, I had no feel for that number.  Now that I know that each shoe is built almost entirely by hand using dozens of components and touched by nearly three dozen workers and that they are working to tolerances as tight as 0.5mm and that many of the machines are older than their operators and that they will spend minutes repairing a single shoe rather than discarding it as waste, I am in awe of their competence.  But perhaps the most important thing I learned during my trip down the assembly line was that the average tenure of the employees with whom I worked was fourteen years.  New Balance is obviously doing right by their workers and it gives me yet another positive reason to sell their shoes.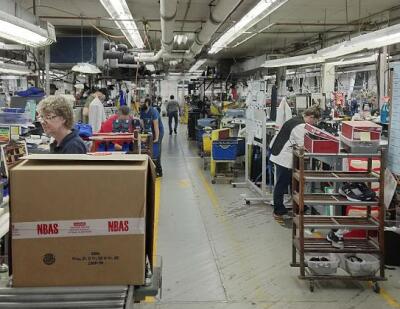 The following video from www.sneakerfreaker.com does an excellent job of showing how the 990v4 production process should be done.  And keep in mind the video - and my report - doesn't even cover how the raw materials are sourced and delivered to the factory and how the completed shoes are transported from the factory to the warehouse and then to retail stores.  Wow!
While I find them beautiful in every way, the 990v4 pair I made failed the quality inspection process miserably and I was not offered a job at the Skowhegan factory.  I did, however, graduate Shoe School.  I join the other Outfitters at Fleet Feet St. Louis in looking forward to fitting you with a pair of well-researched, well-designed, and well-made New Balance shoes during a future visit to one of our stores.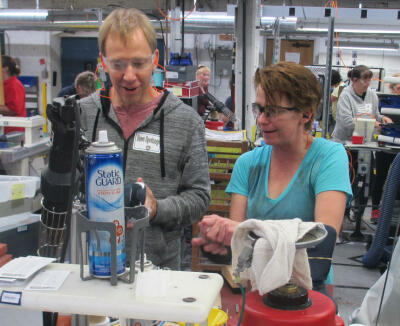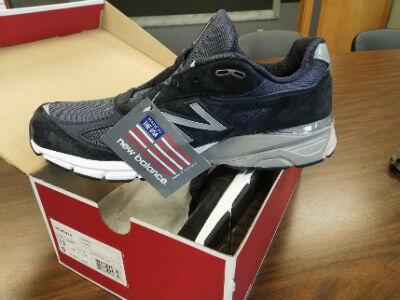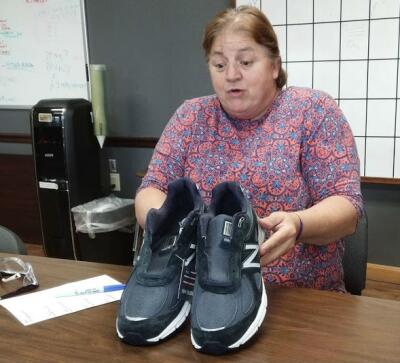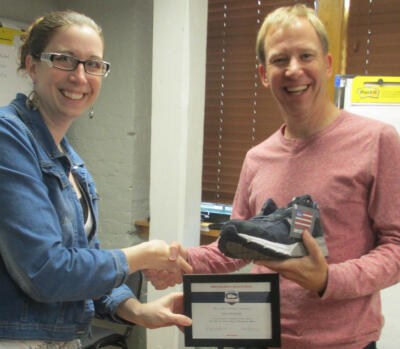 ---
Along with wife, Debby, David Spetnagel opened Fleet Feet Sports in St. Louis in April 1993 after previously working as an aerospace engineer for NASA and McDonnell Douglas. David has since served as Senior Writer at Running Times Magazine, President of the St. Louis Track Club and of the St. Charles Runners Club, Executive Committee member of USA Track & Field's Ozark Association, and track and cross country coach at both St. Charles West and Lindenwood University.  Fleet Feet St. Louis has grown to include five stores and both training and race productions divisions.  A runner since 7th grade, David takes greatest pride in the streak of 1000 straight days of running at least 5K (3.1M) he completed in 2015.