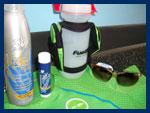 Hats and sunglasses aren't enough to protect your skin from sun exposure. That's why we are proud to carry Aloe Up sunscreen, the premier maker of sun and skincare products in the US.
Why should sunscreen be a vital part of every runner's repertoire? Check out this story from Debby, owner of Fleet Feet St. Louis:
I have been a runner for over 20 years. I never considered a high-quality sunscreen
a "must have" accessory like I did a hat, watch, or water bottle. But everything
changed in 2011 when I was diagnosed with squamous cell carcinoma on my nose.
Primarily caused by overexposure to the sun, this common type of skin cancer is
localized and treatable. However, treatment meant surgery, sporting a bandage for 30
days, and waiting a year for the surgical scar to heal. A recurrence on my cheek nine
months later solidified my advice for all outdoor athletes: Have fun but don't forget the
sunscreen!
Sincerely,
Debby, owner of FLEET FEET St. Louis
Learn more about Aloe Up products!
1 in every 5 Americans will develop skin cancer over the course of a lifetime, and
over 2 million people are diagnosed annually. This means there are more new cases
of skin cancer each year than there are of breast, prostate, lung, and colon cancers
combined.
Easy to apply, sweat- and water-resistant, non-greasy, and non-irritating, Aloe Up
sunscreen products block harmful UVA/UVB rays, even in the toughest conditions
and longest runs. Don't add to the statistics. Check out these great Aloe Up products!
SPF 30 Sunscreen Stick ($4.99)
About as convenient as it gets. Aloe Up's Pro Formula Sunscreen Stick is non-greasy,
non-irritating, fragrance-free, and water- and sweat-resistant. Spread it on our nose,
cheeks, forehead, lips, and ears before heading out. You get full-armor protection
without feeling like a drug store. Plus, it won't sting your eyes. (Score!)
SPF 50 Continuous Spray ($11.99) or Lotion ($10.99)
An advanced formula based in Aloe Vera gel, Aloe Up's Continuous Spray or Lotion
provides UVA/UVB Broad Spectrum protection. We researched many of the top
brands, and Aloe Up is the best. Not only does Aloe Up's highly water- and sweat-
resistant formula last up to 8 hours, but the products are made from US-grown
organic aloe.