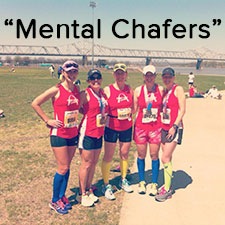 I couldn't breathe at mile one, and so the chafing began.
Isn't it a stinker when you train and train (and train) for a race, and when the big day finally arrives, you just don't have it?
Why am I so tired? I wondered as I glanced at my Garmin only to discover the distance was still registering in feet. I haven't run a half mile yet? Why can't I breathe? Why can't I move my legs? Another glance at my Garmin. I was behind pace. By a lot. I trained all winter for this? I think I hate running.
Things went downhill from there. And I'm not talking about the course.
By the time I crossed the finish line, my brain was raw. Thirteen miles of doubt, disappointment, and discomfort had created major cerebral friction. Throw in the seductive option of walking off the course—a temptation I seriously considered once or seven times—and my mind suffered more chafing than a sumo wrestler in corduroys.
But negative thoughts alone do not a chafed mind make. It's the mental dialogue, the back and forth between negative thoughts and positive, that wears us down. For every attack there must be a counterattack. For every "I can't" there must be an "I can." As the saying goes, it takes two to tango. And therein lies the irony of mental chafing: the very thing that keeps us going can also rub us raw.
I can't do this.
Yes, you can.
It hurts.
It's supposed to.
I'm tired. 
If you aren't tired, you're doing it wrong.
There's no way I can PR.
You win some. You lose some. It happens. Get over it.
I can't believe I trained all winter for this.
You trained for the opportunity to PR, not a guarantee that you would.
I don't want to be here. 
Yeah, well, all these volunteers? All these spectators? All these strangers cheering you on and holding signs and ringing cowbells? You owe it to them to give it your all. So suck it up, buttercup.
This is going to be one of my worst times.
Oh, really? And who are you? Meb Keflezighi? Does The New York Times care about your career-worst performance? Is Anderson Cooper waiting for you at the finish line to ask what went wrong? No? Okay, then. Get over yourself.
I should just quit now.
Yeah. Because that's the noble thing to do. Geez. Unless you're stretched out on a gurney, you owe it to the sport to finish the race.
I'm really uncomfortable.
Good. Then you're really racing.
I don't think I can keep going.
No, you don't think you can keep going at the pace you want. But you can keep going, even if you have to walk.
Why don't I feel as strong as I did a few weeks ago?
Who cares? Your job isn't to be stronger than you've ever been. Your job is to be as strong as you possibly can in this moment.
I've never quite been able to put into words the mental parry that comes with racing—or the pain it causes—until the day of my downfall in Louisville. And even then, it wasn't me. It was Megan, who just happened to be running her first full marathon.
"Mental chafing," she said, talking about her experience after she hit a wall at mile twenty-two. "I need to RunGuard my brain."
A rookie. One marathon. And she was able to sum up in a single sentence a concept I've been trying to describe for seven years.
As painful as it is, mental chafing isn't all bad. It's a sign that you kept going, that you didn't quit, that you fought back. After all, you have to keep moving your legs for your thighs to chafe. (It's a weird analogy, but it's true.)
Professional triathlete Chris Lieto put it bluntly: "The only guarantee in endurance sport is it's going to hurt. And in endurance sport, you pick your level of pain. You have to learn to be comfortable being uncomfortable.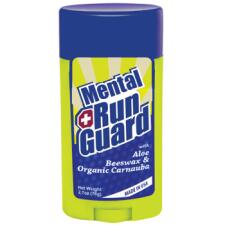 Yes, there is the matter of talent and training, but you train to delay the onset of pain. But it's gonna come. And it comes down to who can tolerate the most pain."
In other words, you can chafe or you can quit.
Pass the Mental RunGuard.
---
Amy L. Marxkors is the author of The Lola Papers: Marathons, Misadventures, and How I Became a Serious Runner. Her second book, Powered By Hope: The Teri Griege Story, will be released in 2014.  Click here to receive Amy's weekly article via email.