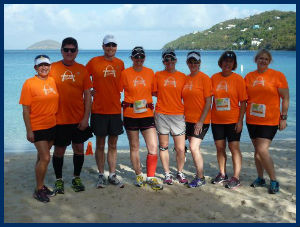 A group of seven FLEET FEET Training Team coaches and a few additional friends has just disembarked from the latest Caribbean Islands Marathon Cruise (CIMC), which was hosted by the husband and wife team of John "The Penguin" Bingham and Jenny Hadfield.  John and Jenny own Marathon Expeditions.  Their CIMC is a very unique cruising experience.  Over the course of the vacation the cruisers participate in four events whose cumulative distance totals 13.1 or 26.2 miles.
"Team FLEET FEET" not only enjoyed the unique Caribbean runs, themselves, but also used the miles to absolve themselves of guilt when enjoying the excellent cruise cuisine.  The attached photo shows (from left to right) team members Laura Pini, Ken Pini, Gary Koenig, Vicki Koenig, Tiffany Hemann, Amy Rodrigues, Julie Michael, and Roblyn Hatch.
Here is how the hosts described the organized runs:
Monday - Stage 1 - St. Thomas 5K/10K - A hilly but beautiful Magen's Bay race.  Magen's Bay Beach is one of the world's top ten most beautiful beaches.  You will run/walk along the hills of the Petersborg Peninsula and earn a spectacular view along the way.  This is a challenging course, but well worth it.  Plus, the finish line is at one of the world's most beautiful beaches so you can call it an excursion, bring your suit, rent kayaks, paddle boards or snorkeling gear and make it a great day at the beach (there are places to change and eat/drink at the beach).
Tuesday - Stage 2 - St. Kitts 5K/10K - A traditional Hash House Harrier race.  We like to include a variety of fun ways to run and walk and this event will not disappoint!  It will be hosted by the St. Kitts Hash House Harriers.  This will be part race, part scavenger hunt - and all fun!  Along the way you will explore the beautiful island in a unconventional way. 
Wednesday - 2K Deck Run/Walk - Not an official part of the race, but a great way to get in a short distance and keep the legs loose. 
Thursday - Stage 3 - Aruba 6K/12K - A flat, fast course that runs along the magnificent beaches of Aruba and through a special crown jewel.  The start/finish area is located on the pristine beaches of Aruba!
Friday - Stage 4 - Curacao 4K/8K - An amazing costume race.  The final event and one that will take you through the heart of the historic centre in Willemstadm, the capital city of Curacao - while in (optional) costume.  You'll run/walk with a buddy in our version of the Amazing Race.  Last year's costumes included pirates, Minnie Mouse, some Tu Tu's, and grass skirts.  This event starts and finishes within feet of the ship's dock.  Once you finish the event you can head back to the ship, go on an excursion or hang around and cheer everyone in!