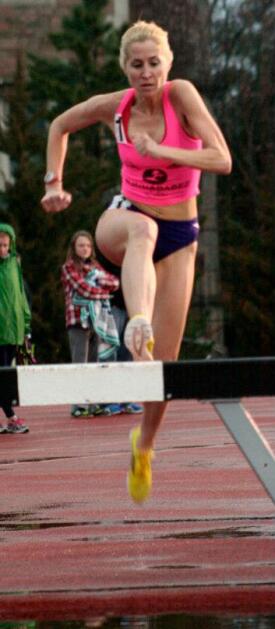 After hearing about the polar vortex for the umpteenth time this winter, I was ready to cry "Uncle!!!" Mother Nature had me on the ropes. Then my wife came back from an awesome run with her Runnababez teammates all fired up. They were tired of hearing about this winter too, but they were a different kind of tired. They were tired of the complaints about it being too cold, too dark, too windy, too whatever.  Lisa responded by writing a blog post for the Runnababez website that encouraged us all to get up off of our duffs and get out the door.  Her article snapped me out of my fog, so I thought I would share it with you.  So, this week you won't hear from Coach Cary.  Rather, you'll hear from...Coach Cary.
Good Luck and Happy Racing!
Coach (Tim) Cary
---
Happy New Year! The holidays are over, and much needed down time taken, holiday fun parties, and festiveness is over now. And yes, the much needed down time should now be over too…It's always hard to take the first step to getting going again if you drifted away from your workouts. But, the longer you wait the harder it will be. So, start now.
It's time to get yourself out the door and running. And yes, out the door even if it's cold, dark, and or snowy. Even if it's just once a week, it's worth it to get fresh air outside. It actually feels great once you get going outside in the cold, after 10-15 minutes if dressed appropriately it feels fresh and wakes you up! Yes, it's time to wake up. Hibernation period should be over if you plan on getting after spring and even summer fitness goals.
Nothing is easy, nothing happens on it's own, everything happens from working hard, and continuing to push through hard times, and working hard some more. As it has been said, "Life's a ……? Getting in some exercise first thing in the morning, is starting the day off on your terms, before the stress or hecticness the day may bring.

"I wish I had time to work out." Does this sound familiar? Well you know what, no one really has time, everyone is busy. Everyone has stuff to do whatever it may be, jobs, family, errands, school, cleaning, cooking, whatever it may be. Everyone is busy doing something. I have found the, "most busy" people also make time to workout more than anyone. They don't make excuses. They wake up earlier.
Do you want to feel happier? Do you want to get rid of stress? Anxiety? Do you want to feel alive? Do you want to get into shape? Do you want to get back into shape? Do you want a PR? Do you want to have fun? Do you want to get into a routine? Do you want good health?
If the answer is yes…Look outside the box, step out of your comfort zone, and do something about it. Start with it one day at a time. Get after something. Think back to the first time your started working out or running, your best race, what got you started in the first place? It's the joy, it's the passion, it's the competition, it's the comrades, it's the social fun during and after, it's the satisfaction of hitting a goal.
Light the fire!
Coach (Lisa Lewis) Cary