Cakes celebrate the achievements and milestones of our lives—birthdays, weddings, and almost any other celebratory occasion. And there are countless types of cakes you can choose from: chocolate, vanilla, red velvet, cookie, pound, or an extravagant multi-layered cake with icing and filling. (Anyone else hungry?) But no matter which type you choose, the one thing that holds true is that you have to let it bake. You don't just mix all the ingredients together, throw it in the oven, and expect to it to be done in a minute or two. You have to give it time to bake. The same rule applies to training, whether you are training for a 5K or an ultramarathon.
You've got to give your training time to bake.
Success on race day takes time. In our society of short attention spans, too often we overlook this fact. Because of our no-bake negligence, we find ourselves tumbling into two common pitfalls. The first is that we don't realize how long it takes to get into race shape. When I was coaching high school track and field, I'd see the kids trying to get into shape one week before the season started. The problem was that those kids needed to start training months before the season started, not days. It takes diligent, consistent training to properly prepare for a race. Even the shortest training plans take a couple of months to complete.
The second is that we are too impatient. When mom throws a cake in the oven, the children hover around the kitchen, constantly asking, "Is it done yet?" Like kids waiting to eat cake, we are so eager to be race-ready that we try to force things.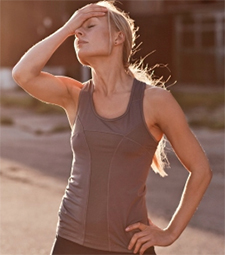 Whenever an athlete is worried about not being in PR shape in the middle of training, my favorite response is, "Is the race this weekend?" Training has a beginning, middle, and end. We can't jump straight to the end and expect to be successful. We have to put the right ingredients in at the right time and then just let it bake. Don't worry about being able to PR in the middle of training. It's not about being fast then. It's about being fast on race day. 
As training builds over these next few months, it's easy to get antsy and start to force things. Don't. Stick with the program and allow the training to work. Patience and consistency allows us to achieve amazing things. May I make one suggestion though? Once you reach your training goal, why not celebrate that achievement with cake. One: Baking the cake emulates the journey you traveled to get to your race. Two: All this talk about baking has made me hungry.
Good Luck and Happy Racing!
Coach Cary
---
Tim Cary is FLEET FEET's Assistant Training Manager, coach of the FLEET FEET-sponsored Runnababez Elite team, and manager of the FLEET FEET Racing Team.  Over his 20 years of coaching, Tim has coached athletes to three national team championships, five national individual championships, two national records, and numerous All-American and All-State honors.  Click here to receive Tim's weekly article via email.