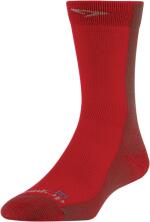 In situations where moisture-management is the most important consideration (aka, wet weather and/or extreme sweating), Fleet Feet recommends drymax socks. No other socks are better at moving water away from the surface of your feet.  And in cold or freezing temperatures, moisture is the skin's worst enemy. Moisture pulls heat away from the skin 23 times faster than air, and can reduce skin temperature so rapidly that wet feet feel painfully cold. Wet skin makes the feet much more susceptible to frostbite and Non-Freezing Cold Injury. Staying dry is critical to remaining warm, comfortable and safe in cold weather and no sock has proven to keep feet drier than drymax technology socks. The wind chill factor often causes the front part of the leg to become the coldest; therefore a third layer of drymax fiber insulation was added along the Cold Weather sock's leading edge.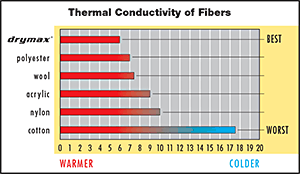 Drymax fibers have the best thermal conductivity rating. This means drymax Cold Weather Running socks keep the skin warmer because they draw less heat away from the skin than socks made with other fibers.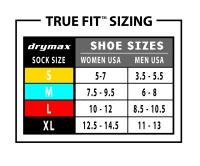 Drymax Cold Weather Running socks come in four sizes to ensure an excellent fit.  The sell for $18.  Fleet Feet also carries drymax Trail Running and Hot Weather Running socks.  They work great for stream crossers and heavy sweaters!