I am excited to announce that Fleet Feet St. Louis is now carrying ON running shoes.  ON is based in Switzerland and I was first attracted to them because of their focus on building technically-advanced running shoes.  Their niche is building lightweight shoes that protect the runner from impact and excessive twisting while also delivering the propulsive efficiency of barefoot running.  Frankly, they're a rare positive result of the minimalist/barefoot fad.  And while their technology is top notch, their unique Swiss styling is worth mentioning.  They look as good as they run! 
ON's midsole/outersole technology is perfectly described by their tag line: Land soft...but push off hard.  On's soft landing is the result of their ingenious Cloud technology.  When your foot strikes the ground, their Cloud pods not only attenuate the vertical impact forces, but also reduce the horizontal forces.  After impact, the Cloud pods then lock into place for efficient, stable propulsion - just like the foot, itself!
 
Because the Cloud pods allow the shoe to "skid" along the ground immediately after impact, horizontal (i.e., shear) forces are greatly reduced and the forces transferred up the lower leg are reduced.  This can be seen clearly in the following video, which is hosted on
ON's website
, and compares an ON shoe with what appears to be Nike's excellent Structure.  If you love the way compression socks or sleeves reduce the "jarring" of your lower leg, Cloud technology is for you.  (For those of you have been shopping at Fleet Feet St. Louis for a few decades, this "shear reduction" concept is very similar to adidas' old Formotion concept.  Formotion outersole units, however, only "skidded" about 1/3rd as much as the Cloud pods do and were only located in the heel.  On's Clouds are located front-to-back and work for heel, midfoot, and forefoot strikers.)
On's efficient toe-off results from the fact that the Cloud pods fully compress during the propulsion phase, lowering the foot near to the ground.  Also, the ON styles we are carrying all have "
Speedboards
" between the Cloud pods and the rest of the midsole.  Speedboards are full-length plastic shanks that (1) "spring back" to their original shape and release propulsive energy after being loaded from mid-stance to toe-off and (2) distribute toe-off loads for a smooth ride.  In addition, some Speedboards are stiffer than others in order to enhance torsional rigidity and limit pronation. 
All Fleet Feet St. Louis stores are stocking the $140
Cloudflow
, ON's statement-level neutral shoe and the $160
Cloudflyer
, their statement-level stability shoe, which uses beefier Clouds and a thicker Speedboard to reduce pronation.  All Fleet Feet St. Louis stores but our slightly smaller O'Fallon store will be selling the
Cloud
, ON's $120 tech-level neutral shoe.   
We invite you to stop in and get your run ON!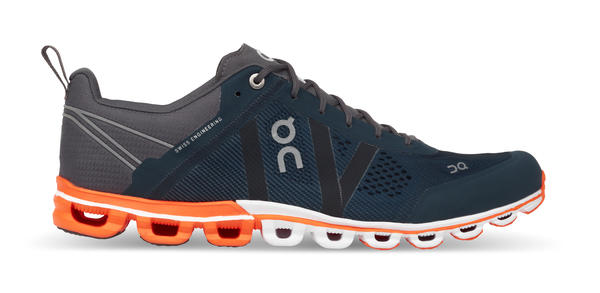 Posted 2017-03-22
---
Along with wife, Debby, David Spetnagel opened Fleet Feet Sports in St. Louis in April 1993 after previously working as an aerospace engineer for NASA and McDonnell Douglas. David has since served as Senior Writer at Running Times Magazine, President of the St. Louis Track Club and of the St. Charles Runners Club, Executive Committee member of USA Track & Field's Ozark Association, and track and cross country coach at both the high school and collegiate levels.  Fleet Feet St. Louis has grown to include five stores and both training and race productions divisions.  A runner since 7th grade, David takes greatest pride in the streak of 1000 straight days of running at least 5K (3.1M) he completed in 2015.