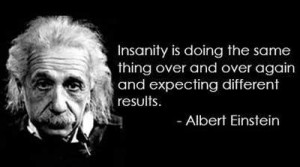 Insanity has been defined as doing the same thing over and over and expecting different results. But how many of us are guilty of this very thing? (I know my hand is up.) 
Runners are notorious for routines. And in this way, one of our biggest strengths is also one of our greatest weaknesses. We can and will push through obstacles with a stubbornness that allows us to persevere. But what if that inexhaustible dedication continues to be met with failure and setbacks? 
It might be time to rethink our approach. (I mean, runners are crazy, but we don't have to be insane.) 
As goal-oriented individuals, we tend to think work more and work harder. That's great and all, but there is something to be said for working smarter. I am constantly tweaking training plans to get better results. I am always looking for a way to make training more effective. If I trained everyone the same way I did when I first started coaching (a little over a couple decades ago), I shouldn't expect to see different (read: better) results. 
To grow as athletes, we need to continue to educate ourselves. No one has it all figured out. Even the best coaches and athletes in the world are always looking for something to adapt in their training in order to improve. Shouldn't we follow their lead and cast aside unsuccessful training approaches? 
Now, this doesn't mean that we try something once and then kick it to the curb at the first sign of failure. It means that if we've tried an approach to training, racing, or dieting—and if we've given it an honest effort and taken into account all of the variables—and it was met with the same result each time, it's time to change things up.
The most intelligent approach to finding a better path isn't through trial and error. There are too many mistakes and there is too little time. Learn from experts and others who have dedicated their lives to the sport. Seek guidance. A professional coach can help you navigate the road more efficiently—and help you enjoy your corner of crazy a little bit more.
---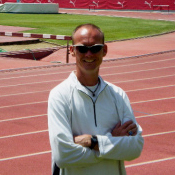 Tim Cary is Fleet Feet's Assistant Training Manager and coach of the Fleet Feet-sponsored Runnababez Elite team.  Over his more than two decades of coaching, Tim has coached athletes to three national team championships, five national individual championships, two national records, and numerous All-American and All-State honors.  Click here to receive Tim's weekly article via email.