On April 21st, 2014, Meb Keflezighi became the first American since 1983 to win the Boston Marathon. With a resume that also includes the 2004 Olympic Silver Medal in the marathon, the 2009 New York City Marathon win, a 4th place finish in the marathon at the 2012 Olympics, and an American 10K record, it'd be easy to assume it's been a pretty smooth ride.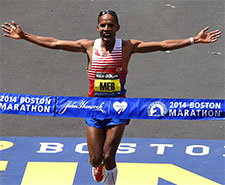 You'd think that everyone expected Meb to contend, if not win, Boston.
Nothing could be further from the truth. If you rewind to 2013, you'll see that many critics were already penning his running epitaph. He had pulled out of Boston in 2013 due to injury. In the New York Marathon, he was stopped in his tracks at mile 19 by a calf injury. In an inspiring effort, he jogged (for him) the rest of the way to honor those in Boston. Meb is one of those noble characters who will not be defeated by defeat. He dares to dream. He dares to pursue those dreams. And most importantly, he dares to deal with the possibility of failing.
I am inspired by people like Meb. There are so many incredible individuals out there daring to be something more, testing themselves against a higher standard than the accepted norm. FLEET FEET's own Amy Marxkors wrote an amazing book, Powered By Hope: The Teri Griege Story, about just such an individual. Teri has not only fought through alcoholism, drug addiction, and stage 4 colon cancer, but she took up the banner to help others battle as well. She tackled the Ironman World Championship in Kona (and numerous other Ironmans) to get the word out about colon cancer. Her selfless actions and positive, upbeat personality are a light that inspires many. To Teri and Meb, it's not about notoriety or trying to be someone popular or special; it's about being the best they can be and inspiring others to do the same. It's easy to forget that they are people like you and me.
We can be something more. We can be that person who inspires others.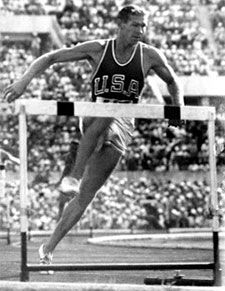 One such individual that was cut from the same cloth as Meb and Teri is Clif Cushman. Clif won the silver medal in the 400-meter hurdles and was the favorite for the gold medal in the 1964 Olympics. Unfortunately, in the American trials, he hit and tripped over the fifth hurdle and failed to make the team on national television. Messages of sympathy poured in to him, and he replied with an open letter to the youth of his hometown. His letter (below) is a challenge to the kids in his hometown to strive to excel in something. 
I think he does a great job of challenging all of us, too.
---
Don't feel sorry for me. I feel sorry for some of you! You may have seen the U.S. Olympic Trials on television September 13. If so, you watched me hit the fifth hurdle, fall and lie on the track in an inglorious heap of skinned elbows, bruised hips, torn knees, and injured pride, unsuccessful in my attempt to make the Olympic team for the second time.
In a split second all the many years of training, pain, sweat, blisters and agony of running were simply and irrevocably wiped out. But I tried! I would much rather fail knowing I had to put forth an honest effort than never to have tried at all.
This is not to say that everybody is capable of making the Olympic team. However, each of you is capable of trying to make your own personal Olympic team, whether it be the high school football team, the glee club, the honor roll, or whatever your goal may be.
Unless your reach exceeds your grasp, how can you be sure what you can attain? And don't you think there are things better than cigarettes, hot rod cars, school dropouts, excessive make-up, and ducktail grease cuts?
Over 15 years ago I saw a star -- first place in the Olympic Games. I literally started to run after it. In 1960, I came within three yards of grabbing it; this year I stumbled, fell, and watched it recede four more years away.
Certainly, I was very disappointed in falling flat on my face. However, there is nothing I can do about it now but get up, pick the cinders from my wounds, and take one more step followed by one more and one more, until the steps turn into the miles and the miles of success.
I know I may never make it. The odds are against me, but I have something in my favor -- desire and faith. Romans 5:3-5 has always had an inspiration to me in this regard: "... we rejoice in our sufferings, knowing that suffering produces endurance, and endurance produces character, and character produces hope, and hope does not disappoint us.' At least I am going to try.
How about you? Would a little extra effort on your part bring up your grade average? Would you have a better chance to make the football team if you stayed an extra 15 minutes after practice and worked on your blocking?
Let me tell you something about yourselves. You are taller and heavier than any past generation in this country. You are spending more money, enjoying more freedom and driving more cars than ever before, yet many of your have never known the satisfaction of doing your best in sports, the joy of excelling the class, the wonderful feeling of completing a job, any job, and looking back on it knowing that you have done your best.
"Dare you to have your hair cut and not wilt under the comments of your so-called friends. I dare you to clean up your language. I dare you to honor your father and mother. I dare you to go to church without having to be compelled to go by your parents.
"Dare you to unselfishly help someone less fortunate than yourself and enjoy the wonderful feeling that goes with it. I dare you to to become physically fit. I dare you to read a book that is not required in school. I dare you to look up at the stars, not down at the mud, and set your sights on one of them that, up to now, you thought was unattainable. There is plenty of room at the top, but no room for anyone to sit down.
Who knows? You may be surprised at what you can achieve with sincere effort. So get up, pick the cinders out of your wounds, and take one more step.
"I dare you."
-- Clifton E. Cushman 
---
 Be inspired, be motivated, and be challenged by these amazing individuals. Don't shy away from a challenge because you might not accomplish it. Find your passion, make your goals, and set about achieving them. We all have it in us to be better than we than we know. Why not test ourselves to see where our mountain top is?  As Clif Cushman said, "I dare you."
Good Luck and Happy Racing!
Coach Cary
---
Tim Cary is FLEET FEET's Assistant Training Manager, coach of the FLEET FEET-sponsored Runnababez Elite team, and manager of the FLEET FEET Racing Team.  Over his 20 years of coaching, Tim has coached athletes to three national team championships, five national individual championships, two national records, and numerous All-American and All-State honors.  Click here to receive Tim's weekly article via email.