He ran out of gas. 
With just over a half mile separating him from the finish line, rookie driver Alexander Rossi's fuel tank hit empty. Careening down the backstretch and entering the final turn, his No. 98 car choked one last time. Rossi was leading the Indianapolis 500 with a half mile to go. And he was coasting. 
"And Rossi is losing speed!" the announcer yelled over the PA system at Indianapolis Motor Speedway. "Rossi is slowing down!" 
The speedway echoed with the collective groan of nearly 400,000 spectators who threw their hands to their heads and shouted and gasped in despair. A rookie driver—and an American, no less—was seconds away from a gutsy and historic victory, and that victory was slipping away. 
The Indianapolis 500 is a marathon of 200 laps around a 2.5-mile oval track. From Laps 168 to 197, Tony Kanaan, Josef Newgarden, and Carlos Munoz battled for the lead position. After nearly three hours of racing, there was no doubt that one of them would be the champion. The only question was which one. The crowd grew anxious as first Kanaan and then Newgarden peeled off the track and into pit row with only a handful of laps remaining. Then, with three laps to go, the leader, Munoz, stopped to refuel. 
Meanwhile, Rossi, who at one point in the race was nearly last, took the lead. He had already driven 33 laps since his last pit stop—the maximum number for his Honda car. He, too, would need to refuel before the finish line. The crowd knew it. Kanaan, Newgarden, and Munoz were banking on it.
But with 3 laps to go, Bryan Herta, co-owner and race strategist for the Andretti Herta Autosport team, told Rossi to bypass pit row. If he drove conservatively over the next three laps, Herta told Rossi, there was a chance—a chance—he'd have just enough gas to win. 
"Can he make it?" screeched the announcer as Rossi's speed continued to drop.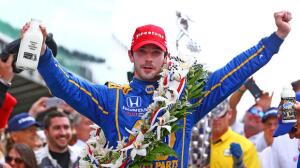 Rossi was rolling along at a meager 179 mph by the time he reached the final stretch of pavement. Munoz was running close to 220 mph. But Herta's gamble worked. Even though Rossi had run without power for the final half mile, he coasted beneath the checkered flag seconds ahead of his teammate, an unexpected champion. 
Rossi didn't have enough gas for a proper victory lap. Instead, he pulled into pit row—finally—and rolled along until his car came to a stop on the opposite side of the track where he sat, stranded and waving, a mile away from the winner's circle. 
He had won on strategy, economy, and the guts to trust that strategy and economy actually work. 
Now that is how you race, I thought, as I stood cheering from the stands while they towed Rossi's car back to center stage. 
No, I don't pretend to be an IndyCar expert. My reflection wasn't directed at the drivers. I said it as a reminder to myself, as a runner and, more specifically, as a marathoner. 
For all of the challenges a marathon presents, perhaps none is so difficult as patience. The anxieties of race day, the looming of the distance, the pent up energy of tapered legs, the hopes of a PR, the memories of race disasters past—we are assailed on every side by the temptation to abandon our race strategy. How easily promises not to go out too fast fall by the wayside the moment we cross the start line! How quickly we doubt the pace we've calculated a thousand times over the course of training! How often we falter in the final miles because we lose faith in our racing plan! 
Rossi's economy race reminded me of Desi Linden's race in the Olympic Trials marathon in February. Going into the trials, Linden's goal was to run conservatively and strategically. She didn't need to win. She needed only to finish in the top three to secure her spot on the 2016 Olympic team. Linden wanted to run her own race—which translated roughly into a 5:40 pace—knowing that trying to run faster in the heat would be too risky. 
When Shalane Flanagan and Amy Cragg made an aggressive move around mile 14, pulling away from the group, a few runners—including Kara Goucher, Sara Hall, and Kellyn Taylor—tried to go with them. Linden didn't. The lead pack surged ahead again. Linden held back. By mile 19, she was over a minute behind the leaders. Still, she stuck to her plan. 
While the NBC cameras circled Flanagan and Cragg, Linden ran alone. She knew she had to run her race and hope the aggressive pace would thin out the lead pack. 
It did. 
Twenty-five miles into the race, Linden surged past a faltering Flanagan. She raised her fist in victory as she crossed the finish line in second place. Like Rossi, Linden had earned her victory—this time in the form of a spot on the Olympic team—through strategy, economy, and the guts to trust that strategy and economy actually work. 
It's fascinating to me that it takes moxie to be patient. Sure, Lap 197 gets all the glory. Sure, the cameras pan your way at mile 25. But those moments are earned in the silent, invisible miles that come before, the miles in which you trust your game plan and with every controlled step remind yourself that it is a very, very long race indeed.
---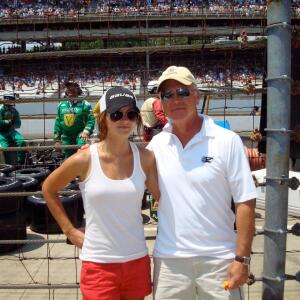 Amy L. Marxkors is the author of The Lola Papers: Marathons, Misadventures, and How I Became a Serious Runner and Powered By Hope: The Teri Griege Story.  Click here to receive Amy's weekly article via email.