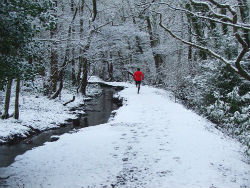 When I turned 36, I ran away from home. More accurately, I ran away from 35 winters and followed my heart into a massage therapy career, lured by the warm balmy winters, limitless sun, and sandy beaches of Florida. Some of you old-timers may remember me behind the counter of the original FLEET FEET Sports, dishing out shoes and advice to any runner who walked in our store. Those were happy times for me, the kind that crawl under my skin and reside dormant until opportunity beats a path to the door. During a successful stint as a massage therapist, a job offer from a venerable running store in Orlando led me back into the world of running retail in the sunny south, and I fully realized my love for this industry of helping runners. Maybe I had to leave a career to understand how much I love a career.
Flash forward three running store management experiences and sixteen exquisite winters later: The call of home had me packing my bags to return to the great city of St. Louis and my one true love, FLEET FEET St. Louis. I'm so enjoying the familiar faces, my old trail runs, rushes of memories, beautiful weather, and I'm also noticing my denial of having to purchase an ice scraper and wear pants to work for a good chunk of the year. It's pure madness!
But then, there is the running. I'm not much of an indoor runner. I'm pretty certain there is some mythological story relating to a torturous punishment for insulting the gods that involves continuous running but never getting anywhere. Yet the impending ice scraper and my sixteen year history of really cold equaling 55 degrees, leaves me utterly conflicted.
Last week I was unceremoniously smacked in the face when thermal tights, shirts and gloves rolled into the stores. I haven't seen thermal anything in sixteen years. No more denial. No more ignoring the fact that gels froze in my pockets on long cold runs and that there are things like wind chill factors. Toto, we ARE in Kansas again. (At least in close proximity.)
And then something strange happened. I remembered the invigorating runs on a light dusting of snow. Flashbacks of the exhilaration of a frosty trail run followed by a warm beverage crept into memory. I walked among the striking new apparel and a secret thrill ran through me, challenging me to overcome my cold aversion. A phrase rang in my memory: "There is no bad weather for running, only unprepared runners." So, if you're like me and unsure how you're going to keep your running streak alive as the temperatures drop and daylight disappears, stop by FLEET FEET. Let's talk. Let's do this winter thing together. Armed with vitamin D and a sunlamp, let's laugh at the weather gods, because at FLEET FEET Sports, we've got you covered all winter long with the gear you need. And if you are a savvy shopper, right now we even have some well-priced pieces from last winter to freshen up your winter wardrobe. (Or, as in my case, start the wardrobe).

(Jane Ducey can be found at the Des Peres location because it's at least a little bit further south than St Charles.)