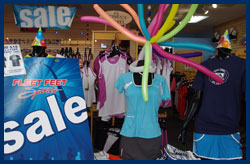 Heading to the GO! St. Louis Expo this weekend? Stop by the FLEET FEET booth on Friday or Saturday for discounted prices on great items like sports bras, Zensah sleeves, MuscleTrac, Sole Sandals, Soleus 1.0 and 3.0 watches, and Sweaty Bands. Sport a FLEET FEET logo and receive a free gift! PLUS, author Amy L. Marxkors will be on hand to sign copies of her new book, The Lola Papers! Also, there is a $10 discount and a free RnR t-shirt (while supplies last) to those who enter RnRSTL at the GO! Expo.
Can't make it to the Expo? Head to any of our three FLEET FEET stores to help us celebrate our 19th birthday and enjoy savings on some of your favorite items. Visit the store April 10th - 15th for 19% off all socks, nutrition, and hydration products!* Plus, receive a free, newly designed retro birthday t-shirt with any purchase of $50 or more. Happy birthday indeed!
*While supplies last. In-stock items only.