When the calendar reaches November runners begin looking forward to Turkey Trots and Thanksgiving dinners.  It's also a perfect time to reminisce.   It's the season for giving thanks, so let's give thanks for...

...our incredible running friends and teammates.

...a shiny, brand new PR.

...a chilly fall morning

...Garmins that provide every possible metric we could ask for.

...injuries that heal.

...running redefining what's possible.

...running the "crazy" off.

...trails.

...friends to help push us along.

...destination races.

...bad days (because they help you appreciate the good ones).

...endorphins

...post-long-run meals.

...being a local tourist.

...therapy on the roads and trails.

...all the awkward conversations.

...learning to believe in yourself.

...family.

...the most fun way to promote health and fight exercise boredom.

...the finish line.

...the helping hands we encounter along the way.

...seeing friends on the trail.

...an open bathroom.

...cross-training buddies

...tough track sessions that make our goals become more attainable.

...conquering our goals.

...experiencing the sunrise.

...being a part of the most supportive community on the planet.

...coaches.

...rehydrating???

...finding a training partner who runs the same pace and will be at the same race.

...new shoes, new clothes, new gear.

...tailwinds.

...having that spare gel when there are 5 miles to go.

...the advice and stories shared amongst our training groups.

...race expos (also known as "an athlete's trick or treat").

...the inspiration running gives us day after day.

...big, blingy finisher's medals.

...volunteers.

...new memories, unforgettable moments, and life-changing experiences.

...post-race, post-run tailgates.

...a cheering squad at just the right spot.

...the ability to get out and run.

These "thankful" moments were brought to you be Fleet Feet Training.
---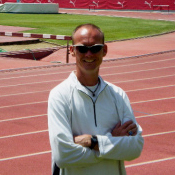 Tim Cary is Fleet Feet's Assistant Training Manager and coach of the Fleet Feet-sponsored Runnababez Elite team.  Over his more than two decades of coaching, Tim has coached athletes to three national team championships, five national individual championships, two national records, and numerous All-American and All-State honors.  Click here to receive Tim's weekly article via email.