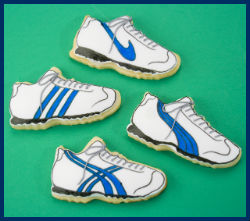 Indulge us (literally) with a runner's take on the popular children's book, If You Give A Mouse A Cookie…
If you give a runner a cookie,
she's going to count the miles it will take to run it off.
When she goes out to run,
she'll realize her shoes are old.
She'll probably buy a new pair of shoes that day.
When she buys her new pair of shoes,
she's going to ask for a pair of synthetic socks.
When she gets the socks,
she's probably going to ask for a moisture wicking shirt as well.
When she tries on the shirt,
she'll ask for some shorts.
Then she'll want to look in the mirror.
When she looks in the mirror,
she'll notice that she needs more visibility for early morning runs.
She'll probably ask for a headlamp or a reflective armband that blinks.
When she's done outfitting herself with her new gear,
she'll carry the items to the cash register to pay.
While she's paying,
she'll notice all the nutritionals on the wall by the register.
She'll want to pick up some GU and try the new electrolyte tablets.
While she's picking out her nutritionals,
she'll notice the bulk discount.
She'll probably buy the whole box of GU.
When she's done,
she'll see a 5K race flyer on the counter.
The other runners in the store will be talking about how fun the race is going to be. She'll read the flyer, go home, and sign up online.
She'll get so excited that she'll probably want a friend to race it with her.
So she'll call a running buddy.
When she calls her running buddy,
she'll find out that he just registered for a half marathon.
Since the race is local,
She'll decide to sign up too.
She'll run the half marathon.
When she's done running the half marathon,
she'll figure she may as well use her half marathon training as a base for another race.
Like a full marathon.
And if she's going to run a marathon, she may as well pick one in a cool city.
So she'll register for the race and reserve her hotel room and buy her plane ticket. Spending all that money will remind her that she still needs to buy a few more things.
Like more GU.
And BodyGlide.
And maybe another pair of shoes.
Then she'll start training for her marathon.
After she runs the marathon,
she'll wear her finisher's medal everywhere.
And to dinner.
The waiter will notice her medal and tell her that she deserves to splurge.
So after dinner,
she'll want to see the dessert menu.
She'll order some ice cream.
And chances are if she orders some ice cream,
she'll ask for a cookie to go with it.