The word "exercise" is a volatile one. It can either make you cringe or jump for joy. There are those who know exercise is positive and healthy; and there are those who say running will blow out your knees (or something like that). 
As an endurance coach, I have seen both groups of people enter the sport of triathlon. People who turn squeamish at the thought of "working out" are often intrigued by the concept of choosing a race and taking the necessary steps (swimming, biking, and running) to get there. I have also seen runners who are tired of being injured and want to incorporate some form of cross-training into their routine, cyclists who want to expand their horizons, people who want to lose weight through a newfound healthy lifestyle, and incredible individuals seeking to overcome addiction by channeling their passions into a positive activity. Triathlon encompasses a wonderful, diverse group of athletes with a never-ending array of "why's."
The lifestyle that results from training for a triathlon—days of swimming, biking, running, and strength training—is healthy, fun, and challenging. Triathlons range from one-hour sprint races to seventeen-hour (max time limit) Ironmans. Yes, there is a triathlon for everyone!
So, how do you get started? 
Fitness Base
Triathlon is demanding on your body, so it is important to enter the sport slowly or with some base fitness. There is much valuable information available online, in books, and through certified coaches to help you build this base. Once the distance of each segment of a race can be completed (whatever distance you choose), it is important to work on endurance so that the distance can be completed comfortably.
The various race distances are:
 

Swim

Bike

Run

Sprint Distance

750 meter (.465 mi)

20k (12.5 mi)

5k (3.1 mi)

Olympic distance

 

1.5k (.93 mi)

40k (25 mi)

10k (6.2 mi)

Long Course – Half Ironman

1.9k (1.2 mi)

90k (56 mi)

21.1k (13.1 mi)

Ultra Distance – Ironman

3.8k (2.4 mi)

180.2k (112 mi)

42.2k (26.2 mi) 
Sprints are a wise place to start. Training for this distance does not require a lot of time or fancy equipment. The most important gear is for safety and comfort. After a bit of experience, an athlete can confidently invest in more technical equipment as needed. The lists below are helpful to understand what is necessary to get started.
Gear Needed
Starting out – Sprint Newbie
Swim goggles – The goggles should fit well without leaking.
Swim cap – This is to keep hair out of your face. In open water, it can help volunteers spot you in the water. Some races will supply a cap.
Triathlon outfit – There are options for race day, but a pair of triathlon shorts and a triathlon top can be worn for the entire event—no changing!
Bike – Use the bike in your garage or borrow from a friend. Take the bike to your local bike shop to have them check it for safety and adjust the fit for comfort. A mountain bike or hybrid bike will have larger tires and you will have to work harder than those on road or triathlon bikes, but it is a place to start!
Helmet – A bicycle helmet is required. The helmet should fit well, not have any cracks, and be stored inside in a cool place, not in the car or a hot garage. A bike shop can help with proper fit.
Running shoes – Proper fit is crucial for run training and racing. Wearing the right shoe for any biomechanical issues can improve performance and comfort and help prevent common injuries.
Blister-free socks – Remember: Cotton is rotten! It causes blisters once it is wet. In a triathlon, some athletes do not wear socks; however, it is important to try this in training before you try it on race day. No socks is not for everyone. Synthetic socks are best for the sport and are available in all thicknesses and colors.
Once a triathlete is ready to train for races for longer than a sprint race, additional gear can be added for comfort and aerodynamics. These are a few examples of items that can help performance:
Wetsuit – This can be worn in open water swims cooler than 78 degrees. A wetsuit adds buoyancy, speed, and warmth. 
Triathlon bike – A triathlon-specific bike frame is geometrically different than that of a road bike. It encourages a more aerodynamic position (and allows the athlete to use less "running muscles") to promote efficiency on race day.
Triathlon bike shoes – These are lightweight, have fewer straps than regular bike shoes, and are very easy to take on and off in transition. They can be worn without socks.
Aero helmet – An aero helmet is for a triathlete with more aggressive goals. It is worn on race day to decrease drag.
Race wheels – These are for speed. They are designed for aerodynamics and are light with tires that reduce rolling resistance.
Triathlon-specific running shoes – These are shoes that are very easy to put on in transition. They have stretch laces and a sock line, so no socks are required. They also feature drainage holes to prevent the collection of sweat or water in the shoes.
Transition bag – A large backpack that has compartments to make race morning more organized. There will also be a spot for a helmet, water bottles, shoes, phone, and post-race wet clothes.
Training Required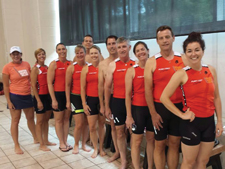 The time and energy that an athlete dedicates to the sport should be dependent on personal goals and how aggressive the goals are compared to experience. A new triathlete training for his or her first sprint can get by with five hours a week. A first Olympic distance would require a few more hours of training each week. An iron distance requires up to fifteen (or more) hours a week. Remember: these are general statements. Fitness experience, time, and relationships are all important in working triathlon into a lifestyle. For adults participating in the sport for fun, balance is important. The sport requires setting goals and planning objectives. Triathlon can become consuming. Days off are just as important as big workouts. A coach can help with this balance and will incorporate "easy" days, rest days, and the appropriate amount of training based on priorities and goals.
Plan Your Season
The best way to start planning is to talk to coaches and friends in the sport, consult with experts at triathlon shops, and check out online races calendars to find which local races are best for newbies. Then, choose a few races and rank them in importance as A, B, or C races. A races are the most important. An athlete will taper to prepare. B races are less important, but are used for experience in pacing, nutrition, and transition. The athlete will not do a serious taper, but rest enough to perform well. C races are just another workout. These can be used as an important training day, worked into the schedule without taper. Many athletes have a difficult time participating in a race as a workout due to the competitive environment, so be careful when adding these to the season. 
Have Fun
Only a few of the triathlon participants are in the sport to earn a living. Then there are those who are determined to place in their age group. The rest of us just want to complete our goals, live a healthy lifestyle, race a personal best, or just have a good time (or all of the above). For busy adults with many competing priorities, triathlon is a wonderful outlet for fun and health. Why not find out how this wonderful sport can improve your life? Follow the above tips and give it a tri! 
---
Sally Drake is a USAT Level II Certified Triathlon Coach, AFAA Certified Personal Trainer, and ASCA Certified Masters Swim Coach. She is the founder of Swim Bike Run Triathlon Shop and Endurance Coaching located in Town and Country, Missouri. Sally specializes in iron and half iron distance races, having completed 13 full Ironman and multiple half-iron races herself. Other passions include strength training, swimming, and nutrition. Contact Sally for a consultation about your goals. All levels welcome!
sally.drake@sbrtrishop.com
Swim Bike Run
1030 Schnucks Woodsmill Plaza
Town and Country, Missouri
636-220-7781