It's not fun to be out of shape. It's not fun to carry more weight than you should. But it's not fun to take those first few steps to living a healthier lifestyle, either. But who cares if taking those steps is fun? They're necessary. And soon enough, if you do what's necessary, you'll become fit. And fit is fun.
While we're on the topic of fitness, let's clear up some common misconceptions about what fit means. Fit is strong, not skinny. Fit is fueling your body, not starving it. Fit is being active, not becoming a workout fiend. Fit is a lifestyle change, not a short-term diet. 
We are inundated with study results about how to live a healthier lifestyle, lose weight, and get in shape. And one thing those studies have in common is that they report that getting in shape starts with a call to action. Reading about how to get fit doesn't do anything unless you implement what you learn.  As the saying goes, "A journey of a thousand miles begins with a single step" (Lao Tzu). 
So why bring this up now (and not at New Year's resolution season)? The Fleet Feet Ton of Fun program kicks off this weekend. Ton of Fun an excellent excuse to take that first step towards creating a new you.  Ton of Fun will give you the resources and accountability to find the new you. But Ton of Fun won't do the work for you. Nothing worthwhile is ever given; it has to be earned. If you want to earn a new you, then we want you!
---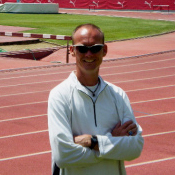 Tim Cary is Fleet Feet's Assistant Training Manager and coach of the Fleet Feet-sponsored Runnababez Elite team.  Over his more than two decades of coaching, Tim has coached athletes to three national team championships, five national individual championships, two national records, and numerous All-American and All-State honors.  Click here to receive Tim's weekly article via email.