Forerunner® 645 Music
---
STAND OUT FEATURES 
---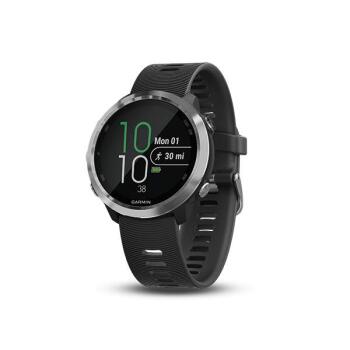 Style. Yep, we're just going to come right out and say it. The Garmin 645 is perhaps the sleekest watch in the GARMIN lineup. One tester even went as far as to call it "elegant," saying that he would happily wear it both running and to the office. What's more, it's low-pro and comfortable on your wrist. 
Music and money. While we've experienced cord-free ear-bud days for a while now, thanks to AfterShokz, with the new Forerunner 645, our music plus running setup just got a lot better. The 645 allows users to load up to 500 songs and uses Bluetooth to connect to your earbuds. Wow. Just wow. This is a feature we can't help but dance—er, run—to. You don't need to carry your debit card either. Utilize GARMIN Pay to pick up your post-run coffee with nothing more than a swipe of your wrist. 
Auto light. A tilt of the wrist to look at the watch mid-stride illuminates the whole face. One tester lauded this feature after completing a nighttime fartlek workout that required attention to his time and paces throughout the run. 
Battery life. It's long. You'll get twelve hours in GPS mode, five hours in GPS mode with Music, and up to seven days in regular smartwatch mode. Good deal with so many features running in the background.
Stats. Monitor your heart-rate throughout your workout and see stats about stride length, rate, and balance. Plus, post-run, view an overhead map of your route and an elevation plot.