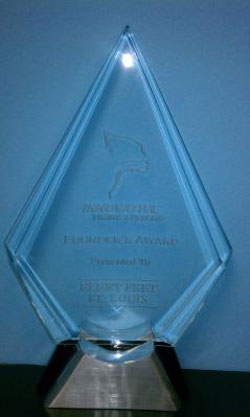 Innovative Timing Systems (ITS) is the developer of the Jaguar timing system, the most powerful and fastest-growing RFID timing system in the world. 
The ITS Founders Award is the company's highest honor, given to those individuals who have dedicated their time and talents in such a way as to contribute significantly to the advancement of the sports event industry.  Once a year, the CEO of ITS selects one customer, from hundreds of customers around the world, who have exemplified the standards of professional integrity and conduct, and have worked to further the field of world-class timing and event management services.
Founder/CEO Kurt Hansen presented the 2012 award to FLEET FEET St. Louis at the annual meeting of Jaguar timers, which was held recently in Las Vegas.  According to Kurt, "FLEET FEET St. Louis was chosen because of their high standards of ethics, integrity and their commitment to always delivering a first-class experience to their customers."
FLEET FEET St. Louis has been timing running and multisport races of all kinds since 1993 and we are proud to be recognized for our commitment for delivering consistently excellent service to our timing customers.  For more information on our Race Timing division, please click here.