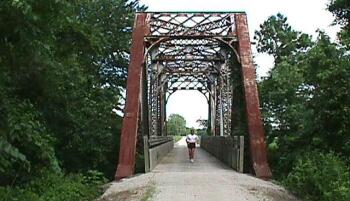 The
Katy Trail
provides a location for members of the
FLEET FEET Runners Club
and other active St. Louisans to participate in the healthy activities they embrace.  Over the past few years, the FLEET FEET Runners Club has supported the Katy Trail in multiple ways.

The Club has just renewed our yearly sponsorship of mile 41-42 on the Katy Trail through the Adopt-A-Trail program.  We have sponsored this mile for over five years.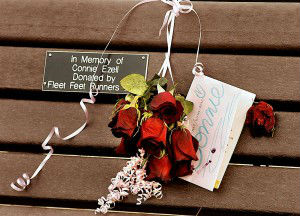 We have sponsored two benches and one bike rack in memory of members who passed away.   The next time you are on the Katy Trail you may want to stop by one of our memorials to past members.  Along the Katy Trail, they shared many rides, runs, and walks with other members.
The Connie Ezell memorial bench is located by the band Pavilion in Frontier Park.
The Albert Iffrig memorial bench is located nearby mile mark 43.
The Terry Simmering memorial bike rack is located at the comfort station along Greens Bottom Road.
Bob Rogalski, Treasurer