Endurance sport provides a grand metaphor for life, does it not? Therefore, one would assume that if wisdom gleaned in distance running can be applied to our everyday lives, wisdom from our everyday lives would return the favor. And what do you know? It does.
"With the possible exception of the equator, everything begins somewhere." (C.S. Lewis)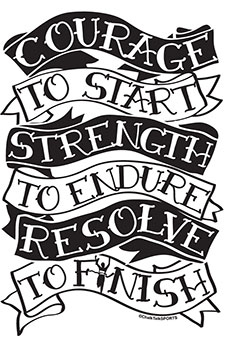 Even elite runners were beginners at one point. Every marathon begins with a single mile. Every mile begins with a single step. Every step begins with a decision. 
"To map out a course of action and follow it to an end requires courage." (Ralph Waldo Emerson)
Training isn't easy. You have to be dedicated, passionate, and committed for the long haul. This ain't no sprint, baby. 
"Though this be madness, yet there is method in't." (William Shakespeare)
And for goodness' sake, trust your training.
"Mr. Duffy lived a short distance from his body." (James Joyce)
I feel like we've all suffered from a case of the "Mr. Duffys." HashtagRunnersAreCrazy HashtagDealWithIt
"Looking foolish does the spirit good. The need not to look foolish is one of youth's many burdens; as we get older we are exempted from more and more." (John Updike)
Headlamps and knee-high compression socks are all the rage. And it's a "hydration belt," not a fannypack, thank you very much. 
"Great men are seldom over-scrupulous in the arrangement of their attire." (Charles Dickens)
Because it's not about fashion, folks. It's about function. 
"We have had such dreadful hot weather; it is keeping me in a constant state of inelegance." (Jane Austin)
The struggle is real, yo.
"It takes a long time to become young." (Pablo Picasso)
What's more youthful than running around in circles? Sure, our circles are five, ten, or twenty miles around, but we're still running. For fun, even. Running is liberation from the rules of being grown up. When we run, we are kids. We are free. And we get to spit. Plus… 
"I would always rather be happy than dignified." (Charlotte Bronte)
Duh.
"Oh! Do not attack me with your watch. A watch is always too fast or too slow. I cannot be dictated to by a watch." (Jane Austen)
God bless Garmin, but don't get caught up in splits. Above all, listen to your body, no matter what the numbers say. And every now and then, unplug. After all… 
"A good decision is based on knowledge and not on numbers." (Plato)
Enough said.
"True silence is the rest of the mind; and it is to the spirit what sleep is to the body, nourishment and refreshment." (William Penn)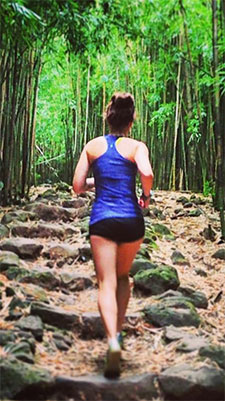 Oh, and speaking of unplugging, leave the iPod at home every now and then, too.
"The greatest wonder is that we can see the trees and not wonder more." (Ralph Waldo Emerson)
Look around you. Runners get a front-row seat to nature's spectacle. It's pretty tremendous.
"The only way to keep your health is to eat what you don't want, drink what you don't like, and do what you'd rather not." (Mark Twain)
A little self-discipline never killed anybody, but a lack of it has. So suck it up, buttercup. Eventually, you'll learn to like GU.
"It is a melancholy truth that even great men have their poor relations." (Charles Dickens)
Don't fall prey to people who drain the life out of you. Surround yourself with positive, driven, like-minded folks who can help keep you accountable and motivated. 
"A sympathetic friend can be quite as dear as a brother." (Homer)
A true running buddy gets it. She is there to push you through the tough miles, console you in your defeats, and celebrate with you in your victories. She's also there to stand guard when you have to pee behind a tree. Because…
"What do we live for, if it is not to make life less difficult for each other?"(George Eliot)
Exactly. That's why we must always remember…
Most quarrels are inevitable at the time; incredible afterwards. (E. M. Foster)
"I'm sorry for what I said at mile twenty-three."
"It is a curious thought, but it is only when you see people looking ridiculous that you realize just how much you love them." (Agatha Christie)
Nothing fosters friendships like distance running. Once you've run through the trenches with someone—at four o'clock in the morning or when it's one hundred degrees or when your long run is punctuated with diarrhea—and survived to laugh about it, well, you have a true friend indeed.
"It is better to be alone than in bad company." (George Washington)
So choose your running buddies wisely.
"Bodily haste and exertion usually leave our thoughts very much at the mercy of our feelings and imagination." (George Eliot)
When you hit the wall, whether it be in the middle of a race or in the middle of training, keep going. Don't give in to the doubts that will inevitably creep into your head. Remember: If any thought begins with the words, "I can't…" it's a lie. Don't believe it, because…
"Fatigue makes cowards of us all." (Vince Lombardi)
So be brave, even when it hurts, and…
"Tell your heart that the fear of suffering is worse than the suffering itself." (Paulo Coelho)
Because it is.
"Life is a storm, my young friend. You will bask in the sunlight one moment, be shattered on the rocks the next. What makes you a man is what you do when that storm comes." (Alexander Dumas) 
It's also what makes you a runner. 
"Always do what you are afraid to do." (Ralph Waldo Emerson)
That includes track workouts.
"The horror! The horror!" (Joseph Conrad)
Tell me you haven't felt this way about something on your training schedule. The mileage. The long runs. The hill repeats. The speedwork. The race itself. Tell me you haven't felt this way at one point or another. Go on. I dare you. That's what I thought. Okay then. So what do we do?
"Facing it, always facing it, that's the way to get through. Face it." (Joseph Conrad)
Boom. Because… 
"It is wonderful what you can do when you have to." (C.S. Lewis)
It's true. 
"Age is an issue of mind over matter. If you don't mind, it doesn't matter." (Mark Twain)
That's right. Go. Train. Run. Don't let the world tell you what you're too old to do. It's not the boss of you. And remember… 
"It is never too late to be what you might have been." (George Eliot)
So what are you waiting for?
"A soldier will fight long and hard for a bit of colored ribbon." (Napoleon Bonaparte)
Finisher's medals, anyone?
---
Amy L. Marxkors is the author of The Lola Papers: Marathons, Misadventures, and How I Became a Serious Runner and Powered By Hope: The Teri Griege Story.  Click here to receive Amy's weekly article via email.