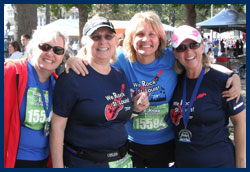 Want to run the Rock 'n' Roll St. Louis Marathon or ½ in October? Register now for the Fall 2012 FLEET FEET Training Team program!
Let FLEET FEET help you reach your goals with professional coaching, personal fitness evaluations, training plans, pace groups, coached long runs, nutrition information and recipes, on-site injury treatment and prevention tips, exclusive discounts, and more! The best part? The fun atmosphere and awesome people, of course!
The Full Marathon training program starts June 23rd. The Half Marathon training program starts July 28th. Register now!