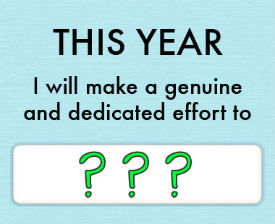 It's that time of year, again.  The time when we dash around, careening off each other at the mall.  The time when we indulge in a little (or a lot) too much fudge, eggnog, cookies, etc.  The time when we cram enough lights onto their roof to blind the astronauts astronauts in the space station.  Don't get me wrong; I love this time of year.  My wife has dubbed me a "Christmas bomb" because I'm bursting with cheer throughout the holidays.  There are times, though, when things become a caricature of themselves.  
Here's where I zig when you thought I'd zag.  I'm leap-frogging all of the typical holiday rants and going straight to the New Year.  New Year's resolutions have become a joke.  How many people (including yourself) do you know that have actually kept their resolution for more than a couple of weeks?  Heck, how many do you know (including yourself) that put more than a few seconds of thought into their resolution?  
 
People have been making New Year's resolutions since the time of the ancient Babylonians.  They would make promises to their gods to earn favor and be rewarded with a good year.  The Romans spent time around the coming of the New Year both thinking about the past and planning for the future.  Nowadays, resolutions seem to be based more on guilt arising from how much we indulged over the holidays than about setting a thoughtful goal for improvement.  

As a coach, I'm hardwired to help people attain their goals.  What frustrates me each year is how so many resolutioners set themselves up for failure. 
 
"By failing to prepare, you are preparing to fail." - Benjamin Franklin.
 
Visit any gym during the first couple weeks of January and you will be hard-pressed to find a treadmill, elliptical machine, or locker to use.  By February, though, the mass exodus has occurred.  Why do so many fail at what they thought was a good goal?  They fail because they weren't prepared. 
 
New Year's resolutions are opportunities to set - and attain - important goals.  But many of us start resolutions with the thought that we'll try it first, and if it takes, then we'll generate the motivation to succeed.  That's like saying you're going to try to build a house, but you don't want to invest in any tools because you might not be successful.  By following that path, you've ensured your failure.
So, how do you succeed?  First off, you need to decide what we really want - and what you are willing to fail at.  If your resolution falls into your "willing to fail at" category, then it's probably not one you will stick with.  Once you find that goal that you really want to attain, then immediately start planning an attack.  Imagine how many more people would be successful in their resolutions if New Year's came before Christmas.  That way we could ask for the gifts to help us accomplish what we dream about.
 
Since most resolutions deal with healthier living, there is no better place than FLEET FEET to help you accomplish your resolution.  If weight loss is your goal, we can help you find the gear that will help you move comfortable, test your resting metabolic rate test to see just how many calories you should be eating, and enter you into an appropriate training program that will offer you a fun, safe, and structured path to success.  If staying injury free is your goal, we can get you squared away with the proper footwear for you, show you countless myofascial release exercises, and offer you  classes (Mat Science and Functional Strength, to list two) that will help you be stay healthy by being a more balanced athlete.  If you want to achieve a racing goal, we can test your VO2 Max to find your individual heart rate zones, register you for Speed School so you can find those gears you never knew you had, and guide you toward the Training Team that will get you across that finish line in record time!
 
Make this New Year better and more successful than years past.  Let FLEET FEET help you find the path that fits your needs and goals for 2014...now.  This is the time to find out what you'll need to succeed.  (If you're good, maybe Santa will bring you what need.) FLEET FEET wants to help you be a better you in 2014! 
 
Good luck and Happy Racing!
Coach Cary