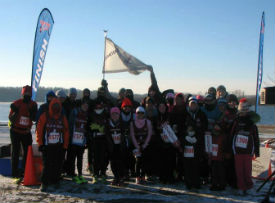 As a result of the winter storm that hit the middle of the country last weekend, the St. Jude's Marathon in Memphis was cancelled.  Instead of being left out in the cold, though, a group of area runners led by O'Fallon, MO's Karen and Keith Rider decided to take matters into their own feet.
Tenacity and heart are two characteristics for which runners are known.  In 2008, Karen, an ICU nurse at St. Luke's Hospital and her husband Keith, an Army veteran and Chesterfield Police officer, started Team Catheters and Cuffs to raise money for St. Jude's Childrens Hospital.  Karen had just given birth to their 3rd child and had started running to get back into shape and Keith had been challenged by a co-worker to run the Chesterfield Turkey Trot.  "I decided that no amount of pain that I would endure in training would ever compare to the suffering and pain that the children at St. Jude's and their families go through," said Karen.  In the four years since their inception, Team Catheters and Cuffs has raised over $70,000 for St. Jude's.  The ever-growing group of generous people hosts monthly fundraisers and ends their year by participating in the St. Jude's half or full marathon in early December.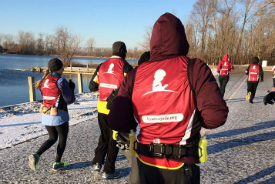 As the ominous weather forecast rolled in last weekend the group decided to not risk the travel and altered their plans.  Knowing how their annual running of 26.2 or 13.1 miles so symbolically links the team members with the children of St. Jude's, Team Catheters and Cuffs decided to organize an impromptu local race of their own.   On Thursday night, Keith contacted FLEET FEET and asked if we could provide any materials and equipment for this last minute "Memphis Ice Race Detour." FLEET FEET was happy to provide timing equipment, mylar blankets, and race finisher medals to help this group of big-hearted runners reach their goal, no matter that it happened in Creve Coeur Park and not in Memphis.  Yes, despite temperatures barely topping 10 degrees over 30 existing members, new members, and supporters reinforced what we all already know about the powerful spirit of the running community.