It's that time of year again, when my voicemail and inbox are filled with runners freaking out because they did the unthinkable: they signed up for a half marathon. These unsuspecting runners were clicking around, checking out different races, looking at the medals and fun and festivities that come with a half, when they thought, "Why not? It'll be fun." Then came the confirmation email and the reality of what they'd done—and the corresponding wave of panic. (If you've run a half, you know you've been there before.)
But don't worry. Preparing for a half is simply a lesson in eating an elephant.
How do you eat an elephant? One bite at a time. It's a well-worn saying that is very applicable, but not very well utilized. The idea is to break down a daunting task into manageable portions. The problem is that we typically don't break our big goals down into small enough (bite-sized) pieces. Our eyes are still bigger than our stomachs, so to speak.  To successfully reach our goals, we simply need to learn how to break them down into units that are manageable—and then tackle those bites one at a time. 
When your goal is running a half marathon—or anything running related—utilizing your Fleet Feet resources is an excellent first step. We specialize in helping you reach your running goals. Here are a few ways we can help you cross the finish line and enjoy the fun and festivities that captured your imagination when you first signed up for that race.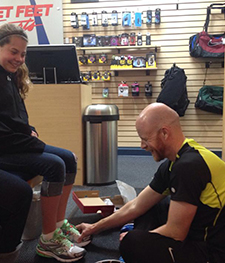 Get Properly Geared Up - The key word here is properly. A lot of people will go out and buy some shoes and running gear as they build into training (usually after shin splints have set in from pounding the pavement in their old, beat up shoes). The problem is that we are all different and have different needs when it comes to shoes and gear. I like to equate running gear to cars. Each car company makes a variety of car types (sedans, SUVs, trucks, sportsters, and so on), but not every car fits every person. My little baby Kia wouldn't do very well off-roading, just like my neighbor's pickup truck wouldn't be the best option for a cross-country family vacation. As runners, we need our gear to match our needs. Sure, the Asics Kayano may work great for your neighbor—but it might be the exact wrong shoe for you. Your friendly Fleet Feet Fit Professional is an expert in helping you find the best gear for you.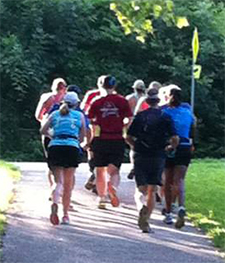 Just Ask Coach - Typically the most daunting task in tackling a half is the training. How do I do this? Is this how I should be feeling? How much, how fast, how often should I be running? These questions, along with a litany of others, inundate us as we prepare for race day. I recommend finding a well respected and accomplished training program to help you reach the finish line on race day. Having experienced, educated coaches to help you prepare for your race is invaluable. They can answer your questions and break training into digestible portions. Obviously, I think very highly of the Fleet Feet Training Team and recommend it for anyone looking to tackle their first half, anyone needing training partners, or anyone seeking a PR. You won't find a better program out there.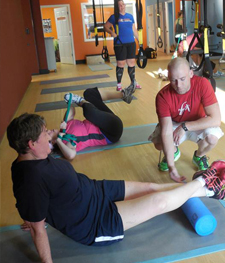 What You Talkin' Bout Willis? - One of the most often overlooked aspects of training is the maintenance work we need to do to stay ahead of the injury bug and perform at an optimum level. Training Educator Adam Willis hosts weekly workshops to educate endurance athletes on ways reduce their risk of injury, quicken recovery, and improve their speed on land or in the water. Injuries are the number one reason why athletes' training derails. Utilizing Adam's knowledge, along with that of the other Fleet Feet Training Educators, will help prepare your body for the demands of training. 
As you make a plan on how to eat an elephant, let Fleet Feet be your guide. The resources are here to help you achieve your goals. Let us Sherpa you along your journey. 
Good Luck and Happy Racing!
Coach Cary
---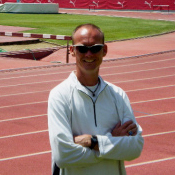 Tim Cary is FLEET FEET's Assistant Training Manager, coach of the FLEET FEET-sponsored Runnababez Elite team, and manager of the FLEET FEET Racing Team.  Over his 20 years of coaching, Tim has coached athletes to three national team championships, five national individual championships, two national records, and numerous All-American and All-State honors.  Click here to receive Tim's weekly article via email.