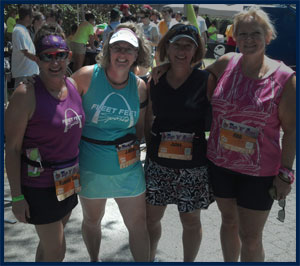 Mark Twain once said, "Clothes make the man. Naked people have little or no influence in society." And while clothes may not necessarily make the runner, they do make the run more enjoyable.
Technical running apparel isn't just hype. It's real equipment made for a real sport. You would never send your kid to football practice without a helmet and pads. So why would you head out for a run without the proper gear?
There is logic and purpose behind every technical shirt, short, skirt, and bra. When you run, you are asking your body to do something extraordinary. Your running clothes should work for you and help you complete the miles as efficiently, practically, and comfortably as possible.
All true technical running apparel is designed specifically to meet the needs of a runner and is created with materials that prevent chafing, wick sweat, are lightweight, keep you cool (or warm), and move with your body. Some pieces go even further, supporting the muscles, offering reflectivity, blocking wind, repelling rain, and providing a place to store GU and hide keys. Having the right equipment can be the difference between a successful run and a DNF.
Your clothes are your gear, whether you are running a mile or a marathon. And as the saying goes, you should always dress for success.
Jill is one of our favorite FLEET FEET runners. Check out her story about overcoming a heart attack and becoming a marathoner!
When did you start running and what did you wear to run?
I started running in high school. (Back in the '80s, it was track shorts and t-shirts. In college, I wore sweatpants, if you can believe it.) I stopped running after college and didn't pick it back up again until my 30s, after the birth of my third child. At the peak of my fitness in my 30s, I was finally confident enough to wear a running bra and "shorty" shorts—usually a brand I'd buy at Target. I was a new mom and a poor journalist-turned-teacher. Looking back, my body didn't look too bad, but I was hoping to work back up to that 20-something, flat-belly body I used to have. (Ha! I'm still waiting for that day.)
At that time, I was running 1 to 3 miles, maybe two to three times a week. Then I had a heart attack due to untreated diabetes, which had started as gestational diabetes with my first child (who is now almost 20). I had to start all over again with running, and I had gained 90 pounds on insulin. I was back to wearing the baggiest clothes I could find.  I did the Couch to 5K program four times before I felt like I really had it back. Even up until a couple of years ago, I was afraid to show my body. I feared that it didn't look like a runner's body anymore.
Finally, by the time I was 42, I felt like I could run a 5K. Instead, someone challenged me to run a half marathon. So I did… without training. The most I had ever run was 6 miles, and I had run-walked that. I finished the half marathon in 2:52. My friends said, "Imagine what you could do if you trained!" So, I began training myself with Hal Higdon plans that I found on the internet. I never really ran with anyone else because I thought I was slow, I thought I wasn't a runner, and I thought "Bodies like mine don't run."
Then I found the FLEET FEET Training Team. I have made some of my best friends running with FLEET FEET.
And so here I am, about to run my first full marathon in Chicago on October 7th. I am running for the American Diabetes Association fundraising team. I said I would never run a full, but to find a cure for diabetes, I'd do anything. (I'm also doing the Tour de Cure next year.)
How did you first hear about real running gear (i.e. technical apparel)?
I didn't find out about real running clothes until I actually ran that first half marathon. I think I wore some Lululemon tight stretchy yoga leggings and a tight tank top (to hold everything in, because people did tell me about "chafing"). But for the most part, I didn't understand the fabrics and type of clothing that would help me go the distance.
After that, I went to FLEET FEET in Fenton, and I was enlightened. I started buying Moving Comfort and New Balance lines that would fit my body. Eventually, I lost enough weight that I could fit into Saucony and Nike apparel.
I bought my first running skirt at FLEET FEET in Fenton. I realized I could look fashionable as I ran, and be comfortable, and have my own style, and feel faster.
I still continued running in Target bras until Jessie fit me in the Juno bra by Moving Comfort. Now I wear the Urban X-Over, the Racer Rebound, and any other model that the staff suggests to me. It helps to buy a really good bra because, unlike the typical fast running women, I have quite a bit on top, and the girls need to be taped down!
What is your favorite piece of running apparel?
My favorite piece of running apparel has to be my signature running skirts. A highlight for my running buddies is to wait and see what kind of running skirt I will sport each week. I am known for wearing a million different styles of running skirts, even in the winter. In fact, I love running skirts so much, Kristen (the FLEET FEET Training Team Head Mama) alerts me when she sees a new line come in at the store! Even my students at Ladue High School get a kick out of my outrageous running apparel. Last year, they bought me several different headbands, choosing the colors specifically for the skirts I had. What a gift!
Any other thoughts on technical running apparel?
I want women to know that if they are girly (and even if they aren't), they can look smashing while they run and still be fast and comfortable. Skirts hide those "thunder thighs" that we may think are ugly—but in reality, those thighs are what get us through 26.2 miles! I probably have just as many running clothes as I do work clothes (and I am a clothes horse). My husband thinks he needs to build me a closet just for my running and biking clothes. There is so much technology in apparel nowadays. We do not need to be stuck looking like Irene Cara in Flashdance from the 1980s! 
If you've got to spend a couple of hours running double-digit distances on Saturdays, why not do it looking spunky and fun? Also, looking good builds confidence, and all runners could use a little confidence, right?