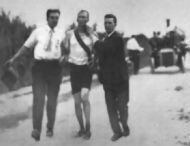 At Least It's Not 1904
 - 
With the fall half and full marathon season here, many of us will soon be running long along the streets of St Louis.  We will also likely be running a gamut of emotions during those treks.  While we usually begin a race with optimism and aspirations of having a good race, we also know that parts of the race will be difficult and must be endured.  When you meet that gorilla carrying a refrigerator in a race and he decided to jump on your back, be happy that it's not 1904.  In the summer of 1904 St. Louis hosted the first Olympics on U.S. soil in conjunction with the Worlds Fair.  The feature event of those games was the marathon.  The course was 24.85 miles long, as the standard distance for the marathon had not been set yet.  The course was claimed to be "the most difficult a human being was ever asked to run over."  The race began at 3:03 on the afternoon of August 30th and the temperate was over 90 degrees.  Were the athletes wearing wicking shirts?  Synthetic shorts?  Comfortable cushioned running shoes?  Ummm...no.  And the course had limited water stops because "purposeful dehydration" was popular at the time.  Running over the dirt- and dust-covered roads, several athletes succumbed to the conditions.  One was hospitalized because the dust coated his esophagus and abraded his stomach lining.  Another was chased a mile off course by wild dogs.  Grandpa's old stories about hiking through 3 feet of snow to school (uphill both ways!) are sounding more plausible by the moment, aren't they?  Anyway, the first to enter the Olympic stadium was Fred Lorz.  He crossed the finish line in just under 3 hours.  They stopped the awards ceremony just as he was about to receive his Gold Medal when it was discovered that he had caught a ride in a car for 11 miles of the race!  Thomas Hicks, the leader on the course at that point, was having his own troubles.  The heat and course were taking their toll.  His handlers began to give him drinks of strychnine and brandy to help him along.  Who needs GU and Nuun when you've got poison and alcohol?  Between his unique hydration plan and his being regularly sponged with warm water, it's amazing that Hicks was still vertical, much less in first place.  After he entered the stadium, Hicks was basically carried by his coaches to the finish line of the 1904 Olympic Marathon.  So, when you hit a moment of doubt or a rough patch in your upcoming race, remember: at least it's not 1904.
---
Meet U.S. Olympian Brittany Borman
- Speaking of Olympians, there is an awesome opportunity to meet one from right here in the St. Louis area this weekend.  The
BAJA (Bone and Joint Awareness) half marathon and 5k
will be held this Sunday in Festus.  Festus alum and 2012 U.S. Olympian Brittany Borman will start the race.  If you haven't met Brittany, she is an even better person than an athlete and I highly recommend you make your acquaintance as you line up to run the BAJA half or 5k.  With over 20 FLEET FEET employees signed up to participate, this is your chance to run with your favorite Fit Pro, as well.  The FLEET FEET Racing Team bus will be there for the pre- and post-race tailgate.  Come enjoy an ice cold beverage, hang out with a Fit Pro, or meet one of the Runnababez.  You just never know who you'll see when the bus pulls up.  Come enjoy the enjoyment of one of the best half marathons around with some great folks.  See you in Festus!
---
FLEET FEET Racing Team
- 
With so many races on the docket, this is a great time to make some big moves in the FLEET FEET Racing Team standings.  The lead has changed several times over the last month, along with a constantly fluctuating top 10.  The leader going into the past weekend, Tony Cable, jumped up several spots in the standings with a couple of great races recently.  With the distance categories, Rookie of the Year, and overall leader/grand poobah rankings still so close, this is an excellent opportunity to take advantage of some amazing weather and a loaded race schedule.  Check out the FLEET FEET Race Calendar to plan your path to victory!
Good Luck and Happy Racing!
Coach Cary