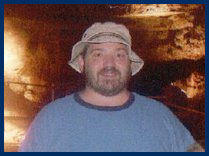 My name is Carl Bost. I am an ordinary, 47-year-old guy who has done some extraordinary things over the past few years. Like many people in my generation, I have had a weight problem most of my life. My love for calorically dense foods, habitual late night TV watching, and a tendency towards laziness was a bad combination for my personal health. Being obese has been an integral part of my life for as long as I can remember. In fact, by the time I graduated high school in 1982, I was already an expert at the weight loss game.
In 1985, I lost 50 pounds to be eligible to enlist into the United States Navy. I lost the weight by working out at a gym three days a week, running four days a week, and staying faithful to a low-fat diet. I served a total of six years in the US Navy. Even though I had a decent fitness level, could run a ten-minute mile, and do sit-ups and push-ups, every single year I was considered overweight by US Navy standards.
Carl started regaining weight after he was honorably discharged from the Navy. By 1995, he reached 225 pounds. He began Weight Watchers and joined a gym. Even though he was once more able to lose the weight, the roller coaster continued. In 2000, he took a job that requires sitting in front of a PC for eight hours a day. Over the next ten years, he gained 10 pounds a year, despite joining different gyms and working hard to keep his weight below 300 pounds.
He hit his lowest point in 2009, when his weight peaked at 350 pounds. He was suffering from chronic fatigue, severe depression, and acute sleep apnea, which caused him to wake up sixty to seventy times per hour. Treating his sleep apnea with a CPAP machine, Carl started sleeping better. He no longer ate simple sugary carbohydrates for energy all day long, and he began to walk 10-15 minutes a day.
In January 2010, Carl made a resolution to lose weight. He joined Jenny Craig and learned how to eat a more healthful diet. He started walking regularly, increasing both the distance and frequency on a weekly basis. ("The results of a simple diet and walking were remarkable. I was able to get below 300 pounds and was amazed at how much better I felt not carrying around that extra 50 pounds!" he says.) Carl read an article about the importance of a good walking shoe and decided it was time he was fitted for a proper shoe.
I went to a local shoe store and spent $160 on a pair of walking shoes that absolutely tore my feet up. I never had so many blisters in my life! I had a horrible experience with them. I purchased their top of the line shoe, but I was not fitted correctly. When I went back, all they wanted me to do was buy another pair of shoes. I walked out of their store and never returned.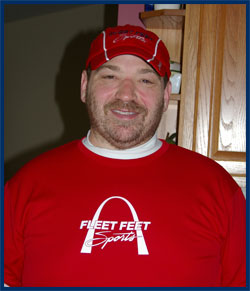 It was not all bad, though, because my bad experience with one shoe store drove me to another specialty shoe store, FLEET FEET. That is how I became a FLEET FEET customer. I was properly fitted with shoes and supports, and I was able to continue my good walking habits. By the end of the summer, I had hired a personal trainer, was walking 20-25 miles per week, and was down to 270 pounds.
In September 2009, Carl had minor leg surgery and was unable to work out for a month. ("I hit the holiday season unprepared and without the personal discipline to say no," Carl explains. "I quickly regained 60 pounds in just three short months. I was very discouraged starting 2011 back at 330 pounds, but I had no one to blame but myself.")
At the beginning of 2011, I made a commitment to myself to be responsible for what I do. And I knew what I had to do. I simply applied all I had learned the previous year and set out to do it again. I worked my butt off to get back to 270 pounds by July. It took six months just to get back to where I had been the year before. I was fairly disciplined with my eating. I walked daily, increasing my daily mileage whenever and however possible.
In April, I started keeping track of my mileage so I would know when to replace my shoes. I walked over 1,800 miles in less than eight months. My personal record for a long walk was 18 miles. In December, I beat that by walking over 27 miles. Once I knew I could walk a marathon, all I really needed to do was work on improving my time! By the end of the year, my weekly walking totals were exceeding 50 miles.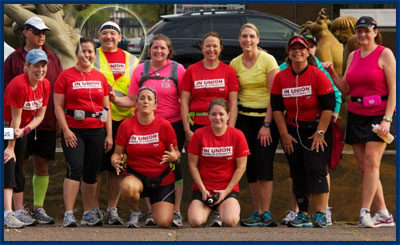 I began playing around with the idea of completing a marathon in less than six hours by adding some running to my walking. I signed up for a marathon in Portland, Oregon, which will take place in October of 2012. This is what brought me to the FLEET FEET training program.
I also met with Tim Detmer from Finish It Fitness, who provided me with a framework for diet and exercise that included two training sessions per week. He thought it best that I continue to supplement my running with walking. I had earned all those miles on my feet. He said my body would adjust accordingly. It did.
While I have lost "only" ten pounds over the past couple of months, I have lost 6% body fat, which equals about 20 pounds of adipose tissue! I learned an important lesson about the limitations of a bathroom scale. I also underappreciated how running and weight training stimulated the growth of lean muscle and increased bone density. I am now stronger and fitter than ever! My resting heart rate has dropped. While I started out being able to run 3 miles without stopping, I can now run 6 miles without stopping. And if I incorporate recovery walks into my run, I can run 12 miles with a lot of fuel left in the tank.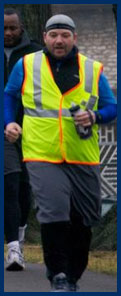 My favorite thing about the FLEET FEET Training Team is the sense of community and acceptance. I go into the Chesterfield FLEET FEET location, and everyone there knows me by name. Amanda and Jess sought me out at those early social runs and ran 3 miles with me to make sure I was okay. My coach, Jen Hamm, is as cheerful and optimistic as anyone I have ever met. It was so uplifting to see David Spetnagel, the owner of FLEET FEET, at the Run For The Helmet cheering me on when I crossed the finish line. And working out with Tim Detmer and his trainers at Finish It Fitness has been a rewarding experience.
Losing over 100 pounds is a life-changing event. It is not something a person can do without other people noticing. I still have good days and bad days, just as I have good runs and bad runs. I am still prone to overeat and make bad choices from time to time. But I do not let those things derail me or keep me from my goals.
One thing that stands out in my mind is a Bible passage that says people are "fearfully and wonderfully made." This passage resonates with me and makes me both thankful and humble. I was a person who weighed 350 pounds and could barely walk from my truck to my desk. I now weigh 245 pounds and can run over 12 miles.
I have come a long way, but I still have a long way to go. I tell people that walking may have saved my life, but in learning to run, I am finding my life all over again.