Spring is the time of growth. It's the time to capture that optimism that rings eternal as the days lengthen and the weather warms. Tomorrow has no mistakes in it yet. Each day dawns fresh and new and full of promise. It's the time to dream and to chase dreams. Draw a line in the sand and don't compromise. It is time to set about becoming a healthier, happier you—the you you've dreamed of.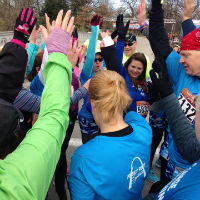 Goals that are truly worthy are tough but doable. It's a little like wrestling a gorilla: you don't quit when you're tired. You quit when the gorilla is tired. Persevering through the difficult times makes the reward that much sweeter, and consistently taking steps towards your goal is what will allow you to achieve that which you had once thought impossible. You have to put your goal in a chokehold and hang on tight until it screams uncle. 
Your goal will test you. And when it tests you, you will doubt yourself. You will have moments when you question your ability, your sanity, and even your goal itself. We all go through it. Even professional athletes experience doubt. So if even elites experience doubt, how are we, amateurs, supposed to tackle the big, bad negativity monster? 
The answer: find a buddy.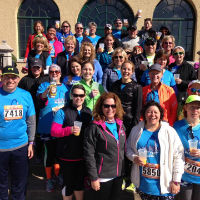 My biggest piece of advice to people chasing goals is to find a group. The support from the community or group environment makes our journeys all the more enjoyable. As the proverb says, "As iron sharpens iron, so one man sharpens another." Having that support system in place to help push us when we need it, to pick us up when we fall, and to celebrate with us when we accomplish our goals is invaluable. As a coach, I encourage athletes to be the best they can be. By truly testing yourself you grow and "win" as a person, even if accomplishing your goal does not go as planned or hoped. The self-discovery that we experience during the journey is where we develop the humble confidence of people who know—and are comfortable with—who we are and what we can achieve.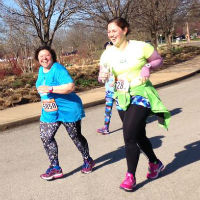 Remember that running is a journey, not a destination. I often hear runners talking about their next goal like it's a vacation they're looking forward to. While I love the idea of aiming for that target and training for it, it's important to remember that the race is only a tiny segment of the overall journey. The time spent in pursuit of that goal is what really shapes us. Don't get too caught up in the minutiae. Don't forget to stop, step back, smell the roses and enjoy the view. Think of all the friends you've made along the way… the self-discovery you've encountered… the postcard views from scenic morning runs. These are the things that truly make running enjoyable; these are the things that push our butts out the door when we really don't want to go. 
Capture the optimism of spring and make a commitment to—and investment in—yourself.  Spring is nature's way of saying, "Let's do this."  So follow her lead, find a friend, and go after your dreams.
---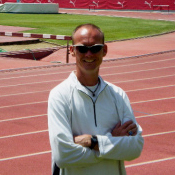 Tim Cary is Head Track & Field and Cross Country for Lindenwood University at Belleville and the former Fleet Feet Assistant Training Manager.  Over his more than two decades of coaching, Tim has coached athletes to three national team championships, five national individual championships, two national records, and numerous All American and All-State honors.  Click here to subscribe to our blog.