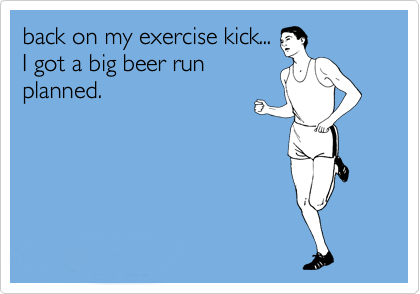 Enough already. It's time to kick the winter doldrums to the curb. The Winter Olympics are over. Pitchers and catchers have not only reported, but have been joined by their teammates and rabid fans. Last week's brief respite from Old Man Winter's grip gave evidence that spring is indeed coming. The tough part, now, is staying sane as the anticipation of 70 degree days grows. As we deal this week with yet another blast of arctic cold, I started thinking of ways we can keep from ending up on the loony bin before spring arrives permanently.
Explore - Look for a new park or locale and change the scenery. There are tons of parks and trails throughout the St Louis area. Pick a different place to explore each week and break up the monotony that tends to come with winter running. 
Game Time - Use your imagination and make up games to play during your runs. Pretend everyone is a zombie and sprint when you come close to someone.  Run with a group and have a running game of tag.  One of my favorites is to make a running scavenger hunt. (Find a red mailbox.  Find a house numbered 14.  Find some green shutters.)
Hit the Gym - Get in some cross training. You know what the weather will be like inside. This is a great time to strengthen those imbalances that could end up leading to warm weather injuries. After battling this winter, you don't want to get injured when you can finally get outside and play.  Test drive a Functional Strength or Mat Science class at the FLEET FEET Training Center.
Retail Therapy - With the winter waning, apparel is transitioning, as well. There's no better time to get a steal of a deal on some cold weather gear? Or, if you're stocked up and tired of tights and long sleeves, now's the time to start planning that spring wardrobe.  There's likely a FLEET FEET near you.  Stop on in. 
Beer Run - Get a group together and take the term beer run literally. Find that sober buddy to help get everyone home after enjoying a fun Saturday pub run/crawl. Gotta carb up, right? Besides, after the fourth or fifth stop, the looks you get for wearing a 3 inch split short become increasingly amusing... and it's great training for your St. Patty's Day race.
Race Time - Races are starting to sprout up around town quicker than the crocuses. Find a race to perk up those competitive juices. Enjoying a fine weekend morning with several hundred kindred spirits is a great way to kick the winter from your feet.
Have no fear. There is light at the end of the tunnel. My fingers are crossed that it's sunlight and not another train coming at us. Finding ways to make lemonade out of a long winter worth of lemons is all about originality and imagination. Put the fun back in your runs and kick open the door to spring.
Good Luck and Happy Racing!
Coach Cary