The end of April signals the twilight of the spring marathon season. We spend all winter battling the cold, dark conditions, laying the foundation for a great spring half or full. With most of our races in the rearview mirror now, what's next? Like most people dealing with an addiction, we begin looking for our next fix. 'Tis the season to sign up for our fall half or full. The problem is that we're still too far away to start training. So how do we bridge the gap from now until it's time to start training again?
Stay Consistent - Once the honeymoon of the race is over, too often we fall off the wagon and lose much of the fitness we battled the elements during the winter to develop. We don't need to gain fitness at this time of year. We simply have to maintain what we've already accrued. I tell people to keep running the same number of days per week, but to alter their long runs. Turn that long run into a similar length run as the rest of the weekly runs. We want to begin the next training program fit and healthy. By maintaining our weekly routine, we let our bodies stay adapted to running and are more prepared for our next round of training.
Hans and Franz It - The interim between training cycles is the perfect time to build on our weaknesses. This is the time to work on strengthening the areas that slowed us down or caused nagging injuries during our last training cycle. This is the perfect opportunity to build those glutes and strengthen those hips. Get a functional movement analysis to find out what works and what needs to be "flipped on." Building a stronger, more stable chassis will have you better prepared to tackle your fall training program.
Loosen Up - Along the same lines as pulling a Hans and Franz is "loosening up." We develop all sorts of tight, knotted muscles during training. Using the next couple of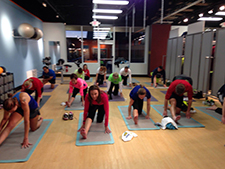 months to work on a flexibility program will allow our bodies to work more efficiently. Rather than fighting ourselves on every step like the Tin Man during an oil shortage, we can work out that tightness through myofascial release and stretching to bring out our inner Stretch Armstrong.
Find Your Carrot - The biggest thing we need to do is avoid stagnancy and quitting. The best way to keep going is find our "carrot." We all have a carrot we can dangle in front of us to keep us moving along. Make a list of fun races to keep your running honest. The summer is the season of the 5K. Find a group of friends and set up a weekly run. It can be the Breakfast Club or the Happy Hour Crew or whatever type of support group you need to keep going. We all have different things that motivate us. The goal is to find your carrot.
Now is the time to lay the foundation for your bridge building. By making a plan on how to get to the next training cycle healthy, strong, and loose, we set ourselves up for success. Utilize these few tips, and you will be ready take on your fall training like a rock star.
Good Luck and Happy Racing!
Coach Cary
---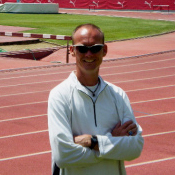 Tim Cary is FLEET FEET's Assistant Training Manager, coach of the FLEET FEET-sponsored Runnababez Elite team, and manager of the FLEET FEET Racing Team.  Over his 20 years of coaching, Tim has coached athletes to three national team championships, five national individual championships, two national records, and numerous All-American and All-State honors.  Click here to receive Tim's weekly article via email.