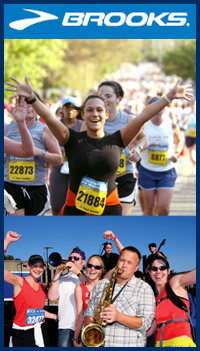 Want to be outfitted head-to-toe in some sweet Brooks apparel… for free?
Sign up for FLEET FEET's Fall Training Team Program by May 5th, and your name will be entered in a drawing to win a sweet Brooks apparel package! Four lucky winners will be selected to receive some rockin' Brooks attire and kicks.
You know you want to run the Rock 'n' Roll St. Louis Marathon and ½ this October. Why not experience the benefits of professional coaching, training plans, pace groups, coached long runs, nutrition information, on-site injury treatment, exclusive discounts, and (of course) awesome teammates in the process?
Brooks wants YOU to join the best training team around, and they're offering a chance to be outfitted head-to-toe in Brooks apparel to prove it!
The Full Marathon training program starts June 23rd. The Half Marathon training program starts July 28th. Register now!