The end of summer is signaled by school bells ringing everywhere. Over these next couple of weeks, children throughout the area will be taking that next step in their life and education. The start of a new school year is a great time for us to take that next step in our life and health as well. Changing ingrained habits and becoming the healthier person you want to be can be a challenge, but remember: Life is not so much about what we accomplish, but rather continually challenging ourselves to grow and develop.
Many of you (through Ton of Fun) have taken that first step towards living a healthier, more active lifestyle. What's next? Might I suggest the FLEET FEET No Boundaries program? No Boundaries is a program to help you run or run/walk a 5K.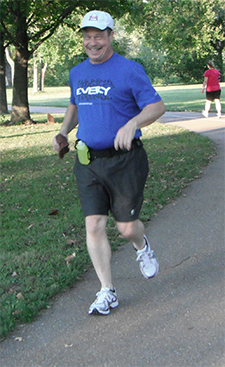 But it is so much more than that. Just like the name says, there are no boundaries to hold you back. One of the greatest aspects of running is that no one can stop you from becoming the person you want to be. A boundary is a barrier. We all place countless barriers in our way in everyday life. I can't… I wish I could… I'll never… This program is all about breaking down those false walls that hold us back. We are more powerful than we think. Your coaches and teammates in the No Boundaries program will help you chip away at your barriers one step, one minute, one mile at a time.
As I said before, life is about challenging ourselves. Is it easy? No. Is it worth it? Absolutely. Nothing worthwhile comes easy. When an artist starts to create a sculpture, he has to keep chipping away. He doesn't hit the chisel with the hammer once, and suddenly all the excess stone falls away revealing a beautiful masterpiece. He keeps hitting it and hitting it, chipping away at the stone.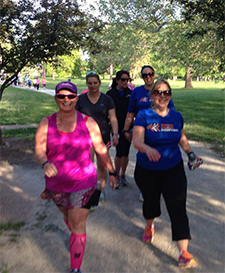 Extraordinary transformations in people are the result of relentless pursuit and determination. Extraordinary people are ordinary people who refused to quit.
One of the greatest aspects of the ten-week No Boundaries program is finding out that you're not alone. You are surrounded by a team of others who are going through the same doubts, fears, and worries that you are. The esprit de corps that develops among the group holds us accountable and helps carry us through the rough times. A lot can change in ten weeks. So as the school bell signals the start to a new school year, have it signal the start to bringing on a new you.
Good Luck and Happy Racing!
Coach Cary
---
Tim Cary is FLEET FEET's Assistant Training Manager, coach of the FLEET FEET-sponsored Runnababez Elite team, and manager of the FLEET FEET Racing Team.  Over his 20 years of coaching, Tim has coached athletes to three national team championships, five national individual championships, two national records, and numerous All-American and All-State honors.  Click here to receive Tim's weekly article via email.