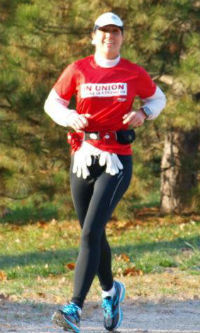 For the past 14 years athletes from all over the country and from all over the world have gathered at Lake Placid, New York to swim 2.4 miles in Mirror Lake, Bike 112 miles through the White face mountains and run, walk and/or crawl 26.2 miles around the Olympic village and surrounding areas to be called an Ironman. 
In the July 22nd, 2012 race there where around 2800 hopes and dreams laid on the line, with hours and hours and of training and commitment before hand to complete this event.Many completed the long journey and many fell short of success.
One constant is Bev Ofsthun, for the past 14 years she has stood on the starting line in Lake Placid after months of hard training and committment and laid her hopes and dreams on the line. Yesterday she completed her 14th Lake Placid Ironman. The only women out of all that have come to Lake Placid to complete this streak. 
I still remember visiting with after she did her 1st race and how excited she was about it, now 14 Lake Placid Ironmans later and watching her cross the finish line keeping the streak alive was cool. Having been friends with Bev all these years, I know it has not been an easy journey for her to get to the line each and every year, as with everyone there have been set backs and redos over the years. But she always found a way to make it to the starting line and finish what she started.
To give you some idea of how much effort this took over the past 14 years. 2.4 mile swim x 14 = 33.6 miles swam, 112 mile bike x 14 =1568 miles biked and 26.2 mile marathon x 14 = 366.8 miles of running,walking and/or crawling. Keep in mind this is just racing miles. not total miles of training for the past 14 years to get to the line. Along with this she has quite a few other Iroman race locations to her resume.  (Editor's note: Bev has also shared her physical and motivational talents by serving as a coach for the FLEET FEET Training Team.)
To reward her for the streak, Ironman gave her free entry in to next years Lake Placid event. With Ironman there is nothing free about it; it takes alot of hard work,commitment and dedication.
She has 362 days to heal up and get ready to put her hopes and dreams on the line for a 15th time. I put my money on Bev. She will be there next year making it happen and keeping the streak alive.