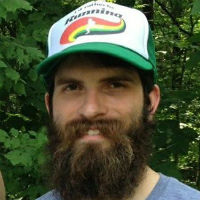 With No-Shave November well underway - and regular columnist Amy Marxkors on vacation - "Gear Your Run" Editor David has given me the opportunity to use this space to explain the deep connection between beards and running.  It's a misconception that the link is limited to male ultrarunners, whose long beards seem to announce, "I run so much, there just isn't time to shave!"  Here's why growing a beard is like running...

When I first decided to grow an epic beard, I began by visualizing the end result and defining what success would look like.  (Just like running.)  
 
I then studied how men with big beards have grown them and chose the path that seemed like it would best fit my mind and body.  (Just like running.)
 
I choose to follow the ways of the Amish and use the waxes, oils and balms that they've been using for decades.  (Kinda like running.)  

Daily dedication to the goal is where the work really gets done.  (Just like running.)  
 
Big beards need daily grooming and cleaning.  Of course, I'd be lost without my support group.  I am a member of the St. Louis Beard and Mustache Club.  The STLBMC meets regularly in public places to show off our beards, provide encouragement, and share grooming tips.  (Could there be any closer analog to any running club?)  
 
Every year the STLBMC hosts a beard competition that brings together beards of all shapes and sizes.  Beards of various styles (goatee, partial beard w/ sideburns, full beard w/ styled mustache, freestyle beard, etc.) are scored on size and level of grooming.  (Just like running.)
 
In order to compete at my best, I throw in some manly cross training.  I drink my coffee black, my whiskey neat, and I try to get to the gun range a couple times a year.  (Focus on the cross training simile tying beards to running, not the methods.)
 
I've been growing this beard for a year and maintaining the current length for the last 4-5 months.  My friends often ask why I have grown my beard so long.  Some send me articles about how beards are unhealthy for one reason or another.  But I'm okay with the criticism because having a big beard gives me confidence.  I just feel better with a beard; it's something that people without beards just don't understand.  Sometimes I do consider quitting and shaving the beard, but I bring myself back to reality by reading inspirational quotes like this one from William Shakespeare, "He that hath a beard is more than a youth, and he that hath no beard is less than a man. (Very much like running).
---
Seth Fankhauser is Fleet Feet St. Louis' Accounting Manager...and is both an excellent beard grower and an accomplished runner.