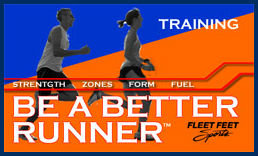 Every runner wants to be a better runner - and FLEET FEET Training can help you achieve that goal quickly and efficiently.  Our new Be a Better Runner Training Program is a cutting-edge, practical training program based on the latest exercise science.  The program is designed to make you a stronger, faster runner.
Based on the best-selling book, Be A Better Runner, by legendary coach, ultramarathoner, and triathlete Sally Edwards,  the Be a Better Runner Training Program educates team members about every aspect of running.  Participants will learn about heart rate zone training, efficient running form, effective stretching techniques, proper nutrition, beneficial cross training methods, and more!
The Be a Better Runner Training Program is a fun, personalized, 8-week program for runners who want to maximize their running potential regardless of their usual race distance or current speed.   In other words, this program does not have a goal distance or goal race.  Running performance is monitored during the program using the Be a Better Runner system to track participants' fitness progression.
The inaugural Be a Better Runner Training Program will run from April 15th through June 6th.  Training sessions will take place on Monday and Thursday evenings at 6pm at Kirkwood North Middle School (near FLEET FEET Des Peres).  Program participants must be able to run 25 minutes continuously and own a heart rate monitor for progress tracking and program customization.  Heart rate monitors can be purchased at your local FLEET FEET store. 
Register now or email Brandi Barbre for more information.
---
Program Perks
a copy of Sally Edwards' Be A Better Runner book
a Mizuno training shirt
weekly communications and support from our dedicated coaching staff
seminars and mini-clinics each week on topics such as running form, injury prevention, nutrition, cross training, etc.
affiliation with our community partners (health professionals and service providers who offer benefits to all team members)
discounts at FLEET FEET Sports during the training period
TONS of motivation and camaraderie provided by fellow participants!