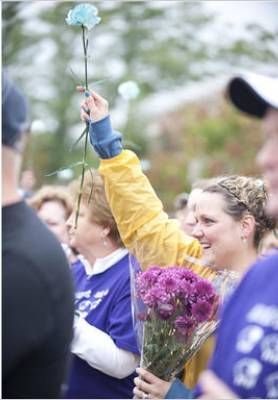 I recently had the pleasure of meeting Angela Shepard after she came into our Fenton store.  She had just finished an 8-mile run with the FLEET FEET Training Team in Fenton City Park and was in need of new shoes.  During her fitting, I learned of her moving and inspiring story and she kindly granted me permission to share it with others.  
Angela was diagnosed with ovarian cancer at the young age of 24 and is now a 12-year survivor of the disease.  While undergoing chemotherapy she would watch runners circle Forest Park; unable to participate herself because of the effect of the treatment on her body.  She vowed she
 would never take the ability to run for granted. 
She promised herself that she would complete a full marathon.  An Illinois resident, she received a recommendation to start by visiting FLEET FEET for a shoe fitting.  Those shoes were just the beginning.  Angela is currently a second-time FLEET FEET Training Team member who runs because she can - and for those who can't.  Her runs are fueled by thoughts of the women who underwent chemotherapy with her and who are no longer with us. 
This picture of Angela is from the first Families ROC Ovarian Cancer 5K.  She reports, "At first, I was unwilling to do any of the Ovarian Cancer 5Ks or other events.  I didn't want to embrace my survivorship - and I didn't for nine years.  This race was extremely important to me because it was the first Ovarian Cancer event I had ever participated in.  It was a fantastic day!!!"