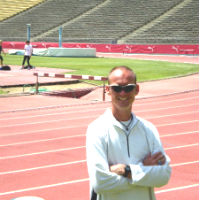 Congratulations to everyone that toed the line starting this past weekend, whether it be in Springfield at the Lincoln Half, downtown for the GO! races, or elsewhere.  Each of you deserve credit for having the strength and courage to take on the challenge of racing.  
As many of you now know, though, race day is the easy part.  At some point a few months ago you got the idea...an ambitious one at that...to sign up for that race.   The ambition that got you to sign up and get out the door probably affected you like sugar.  It gave you a bunch of energy at first...and then the crash came.  
Ambition is only the beginning.  Yes, you deserve congratulations for your ambition, but ambition is only what started your wheels moving.  You also deserve congratulations for following through on your ambition.  Congratulations for tackling a task with an unsure ending.  Congratulations for risking failure and working towards being the person/athlete you dream of becoming.  Congratulations for sticking with it when giving in was the easier path.  Congratulations for being strong and hard-headed enough to survive the polar vortex.
To everyone that ran this weekend and those who's races lie ahead, thank you for being an inspiration to those who are about to take an ambitious step.