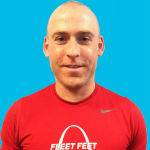 Adam Willis has overcome a lot to become a runner. He's participated in half marathons and adventure races and is currently training triathlon training.  When Adam was young, it didn't appear as if such activities would be part of Adam's lifestyle.  He was born with a rare condition called Legg-Perthes disease, which often leads to degeneration of the hip joint in young children.  As a result, Adam spent a portion of his childhood in a wheelchair and had nine corrective surgeries.  He still feels pain in his hips every day but feels fortunate that he can overcome the pain and participate in the races he enjoys so much. 
Adam began his running career at the Susan G. Komen Race for the Cure in support of his mother.  She suffers from Multiple Sclerosis and is a two-time breast cancer survivor.  It is her story that inspired Adam to overcome his own challenges and do the things he loves.  And that led him to FLEET FEET Sports, first as a customer and now as an employee.
The aspect of Adam's job that brings him the most enjoyment is sharing his passion for fitness with others, both in FLEET FEET's retail environment and as an instructor in our new Training Center.  Before working at FLEET FEET, Adam was a personal trainer and at FLEET FEET he can help even more people achieve their goals.  "Watching customers come back and their confidence and physical ability improving is crazy amazing," Adam said.
Please take the opportunity to come into our Des Peres retail store or Training Center and meet Adam.  You will be energized by his story and enthusiasm.  If you are interested in sharing your love for running and educating customers please feel free to view the employment section of our website.