Let Me Run inspires boys through the power of running to be courageous enough to be themselves, to build healthy relationships, and to live an active lifestyle.
Let Me Run aspires each boy to:
Discover a greater awareness of his gifts and the gifts of others.
Develop a sense of pride, belonging, and purpose.
Learn to be a better friend and identify true friends.
Define success and competition in healthy ways.
Experience a test of endurance and personal goal setting.
Expand his knowledge, so he can make better physical, emotional and mental health choices.
Possess a larger understanding of various community and global needs.
Fleet Feet St. Louis is excited to host our first Let Me Run Community Team. We will have team practices Thursday evenings at 5:00pm and Sunday afternoons at 2:00pm, starting Sunday, March 22nd and running through the May 9th's Grand Slam 5K at our St. Charles location. For more information or to register today, visit https://st-louis.letmerun.org/teams
"What's unique about Let Me Run is that they have taken the aspect of health and the aspect of sport and united them with a positive, proactive message about the psychology of what it means to grow up a young male in our society." - Dr. William Pollack (Associate Clinical Professor of Psychiatry at Harvard University and Author of Real Boys.
---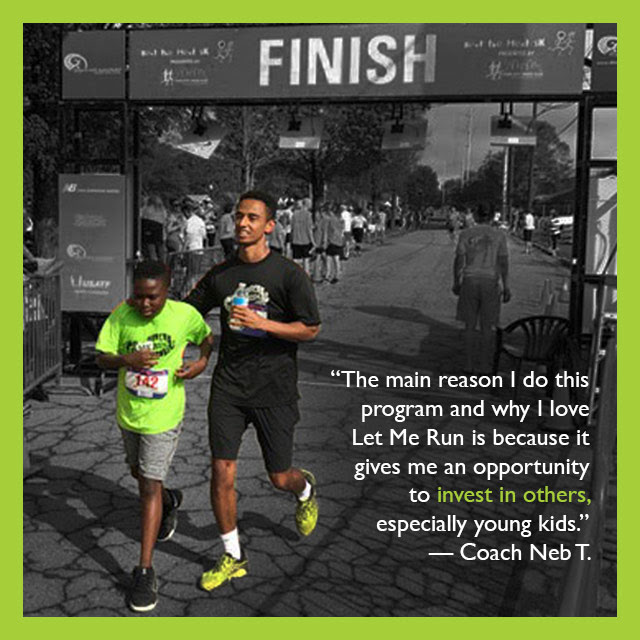 Love running? Love working with youth? Fleet Feet needs more coaches!
If you commit to help twice a week for 7 weeks, you'll receive:
Free LMR Dri-Fit Shirt
Free Grand Slam 5K Race Entry
Satisfaction and Joy investing time in young boys
and inspiring responsibility, teamwork, and confidence!
Can you help? Contact monicaw@letmerun.org