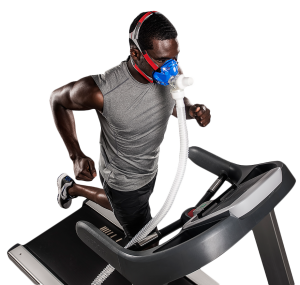 Your VO2Max number refers to the maximum amount of oxygen you can use during intense exercise and is a strong indicator of aerobic fitness (and even your mortality). Our VO2Max assessment takes the guesswork out of training by analyzing an athlete's oxygen consumption while they run on our treadmill. The collected data defines their heart rate training zones so they can maximize their training efficiency and minimize their risk of overtraining.
Tested Systems:
Aerobic or Ventilatory Threshold (VT):

VT is determined from ventilatory changes that reflect a trend change in your CO2 extraction, O2 consumption, and breathing volume and rate. This is the top end of your aerobic zone and your maximum ability to promote endurance.

Anaerobic Threshold (AT): More fatiguing than your VT, AT is a non-sustainable level of exercise intensity. At AT, your body can no longer utilize fat and oxygen to meet energy demands.
Peak Oxygen Consumption: Peak Oxygen Consumption is the maximum amount of oxygen that can be transported and used by your working muscles.
Protocol: The VO2Max assessment is done via a graded exercise treadmill test that increases in speed and/or incline.
Cost: $100. Cost includes VO2Max assessment, printed results, goal consultation, and a customized 8-week training plan based on your results.
Duration: 90 minutes
Location: Fleet Feet Des Peres

---
Pre-Test Instructions:
EATING

It is essential that you do not eat during the 6 hours prior to your appointment time. Eating within 6 hours of your test will mandate rescheduling.
It is also necessary that you avoid all caffeine and caffeinated products for the 6 hours prior to your appointment.
Note: You are allowed to drink water or juice during your fasting period

CLOTHING

Wear a loose-fitting top to allow for heart rate monitoring.
Wear shoes suitable for exercise on a treadmill.
Refrain from applying lotion or powder to your chest on test day.
Women: If possible, refrain from wearing an underwire bra on the day of your test.

EXERCISE

No strenuous exercise 24 — 48 hours prior to test.
Please allow at least 12 hours minimum of passive rest before test.