- NEXT PROGRAM BEGINS JUNE 2ND, 2021 -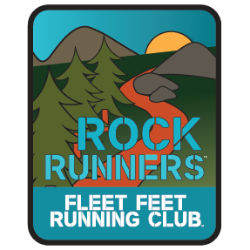 Off-road running is good for the body and the soul. Trails don't pound the legs, their uneven surfaces and hills build leg and lung strength, and they provide a close-up view of Mother Nature at her best. Our Rock Runners programs teach participants how to safely enjoy off-road running and introduces them to different local trails.
PROGRAM STRUCTURE
Our 8-week Summer 2020-2021 program will begin on Wednesday, June 2nd and run until July 31st (There will be no group workout on July 3rd). Weekly socially-distanced, small-group runs will be held on Wednesday evenings (starting between 6 and 7pm) at the Bootlegger Trail and on Saturday mornings at various St. Louis/St. Charles parks (starting between 6:30 and 7:30am). Parks are listed below. Team members should enter the program capable of running at least 3 miles on the roads at a pace of 12:30/mile or faster.
On Saturday mornings, FFRC members are tourists in our own great City (visiting as many parks as possible each training session):
Al Foster Trail (Glencoe, MO)

Babler State Park (Wildwood, MO)

Broemmelsiek Park (Defiance, MO)

Castlewood State Park (Ballwin, MO)

Cliff Cave Park (St. Louis, MO)

Fort Belle Fontaine (St. Louis, MO)

Green Rock Trail (Wildwood, MO)

Greensfelder Park (Wildwood, MO)

Indian Camp Creek Park (Foristell, MO)

Lewis & Clark Trail (Weldon Springs, MO)

Lost Valley Trail (Defiance, MO)

Queeny Park (Ballwin, MO)

Rockwoods Reservation (Wildwood, MO)

West Tyson County Park (Eureka, MO)
REGISTRATION
Our program starts Wednesday, June 2nd and runs until Saturday, July 31st. Please know, we welcome anyone to join any program at any time. Each week, the price for each program is prorated so late enrolees only pay for the remaining weeks. Of course, the more training you complete the more fun you'll have and the easier it will be for you to accomplish your goal. We strongly recommend joining your chosen program as early as possible. Click here to register. As of June 14th, the cost for the program is $90.00. Members will benefit the most by participating in the entire program, but the cost will be pro-rated for those who join after the first week.
Whenever your register for any FFRC service you will receive 15% of your fee in FFRC reward points that can be redeemed for future FFRC services. For example, when you purchase a VO2Max Assessment for $100 you will earn 15 points. When you collect 50 points, for another example, you can redeem them for a Functional Movement Screening, which normally costs $50. Points do not expire and are automaticlly applied to any applicable purchase.
TESTIMONIALS
"If you are looking for a change in your running routine, I highly recommend enrolling in Fleet Feet's Rock Runners program. The trails of St. Louis County are great courses on which to be introduced to the technical aspects of trail running, preparing you for any trail race. Since joining the program last year my endurance, agility, and strength have significantly improved, which has also contributed to my road race performance." - BB
"Fleet Feet's Rock Runners program will help you improve your road race times because trails are more physically demanding. Personally, I was able to improve my half marathon time on the same course by 27 minutes! I know the trail training was a big part of achieving that." - TJ
"Fleet Feet's Rock Runners program introduces you to trails across St. Louis that you may have never discovered on your own. The ability to pick from week to week if you want to do the short or long route is great when your schedule changes. And you are introduced to trails that you can hike or run with your family." - SB
"As a female, I think that for safety reasons it is great to run in the woods with a group of people. And running in the woods really does make you feel like a kid again." - LJ
"Fleet Feet's coaching staff is awesome! Head coach Andy is an incredible runner and offers great insight and tips for trail running - and he is very thorough when mapping out the routes. All of the coaches will help you improve your running while teaching trail etiquette, safety, and they know what to do if someone gets hurt." - DC