---
WHY JOIN US OUR 26.2mi PROGRAM?
Completing a Marathon (26.2mi) is a life-changing event. A marathon finisher's medal is a symbol of dedication, hard work, and the accomplishment of a challenging goal. Participants in our 16-week marathon programs benefit from our professional head coaches, experienced mentors, well-managed group runs on the St. Louis area's best paths, access to an extensive lineup of health care professionals, and informational clinics on nutrition, hydration, gear, injury prevention, stretching techniques, and more.
Individualized training in a group setting. Our proven program has served nearly ten thousand half marathoners. Over the past ten years, participants have given the program an average rating of 4.8 stars (out of five) and more than 90% have completed their goal race. An independent study supports our internal surveys.
Experienced, professional head coaching. Our degreed and credentialed head coaches assess each participant's current fitness level and goals and ensure that they train at an appropriate level.
You won't be alone. Our experienced team of mentors (with over 500 marathons between them!) offers support and motivation to athletes in a wide variety of pace groups.
Multiple weekly group workouts. Team members are invited to participate in two or three coached workouts each week, depending on their program. Additional social runs are available, as well.
---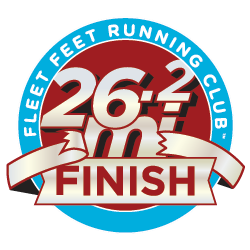 Our 26.2mi FINISH program is appropriate for anyone who wants to enjoy training to run 26.2 miles between 3 hours (8:00/mile long run training pace) and 5¼ hours (13:00/mile long run training pace). We welcome first-time marathoners and veterans looking for a structured program that will prepare them for the 26.2mi distance.


---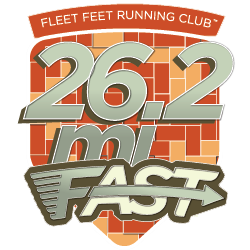 Our 26.2mi FAST program is for experienced marathoners who have made the transition from completing to competing and want to run a Personal Record (PR) for their age, Boston Marathon qualifying time, or similar very challenging effort. Program applicants are first assessed by our professional coaches and - if they have the foundation needed to attain their goal - are accepted into this positive, driven training environment.
---
PROGRAM STRUCTURE
Our 26.2mi Finish and 26.2mi Fast groups train Tuesday evenings (usually at 6:30pm) at Parkway Northeast Middle School and Saturday mornings at various St. Louis/St. Charles parks (usually at 6:30am). Members of our 26.2mi Fast program also meet on Sunday mornings at Fleet Feet Des Peres (usually at 7:30am) or the Forest Park Visitor Center (usually at 6:30am). Also, all team members - and their running partners, friends, and family - are invited to join us at our open Thursday evening and Sunday morning social runs.
---
REGISTRATION
This program begins on Saturday, June 27th and concludes on Sunday, October 4th, 2020. However, we welcome anyone to join any program at any time and we can customize either program to prepare you for any goal race. Each week, the price for each program is prorated so late enrolees only pay for the remaining weeks. Of course, the more training you complete the more fun you'll have and the easier it will be for you to accomplish your goal. We strongly recommend joining your chosen program as early as possible. To register for the 26.2mi Finish or 26.2mi Fast program, click here. The 26.2mi Finish and 26.2mi Fast fees are $220 and $270, respectively, but...
Active-level Fleet Feet Running Club members save on their registration fees, so please consider becoming a club member before registering. As an Active member, you'll receive a year-round 15% discount on FFRC training services and FFRC/Fleet Feet apparel, regular deals on other gear, and access to hundreds of new running buddies via the private FFRC Facebook page. Click here to become an Active FFRC member.
"Just wanted to give a little shout out to the amazing Fleet Feet family and my awesome pace coach! I PR'd on my marathon today, and all the support meant so much!" – L.K.
"To the excellent Fleet Feet coaches who all helped me achieve something that just four months ago I wasn't sure was possible. I want to say THANK YOU!" – M.K.
"Thank you to all the Fleet Feet coaches for their dedication. I have just signed up for my fourth marathon training program. I just can't get enough." – K.S.
"I thought qualifying for Boston was an elusive dream until I started training with the Advanced Fleet Feet marathon group. Now it is a reality! Thanks Fleet Feet." – J.L
---
QUESTIONS?
Email ffrc@fleetfeetstlouis.com or call us at 855-786-5945 x715 and we'll answer them!