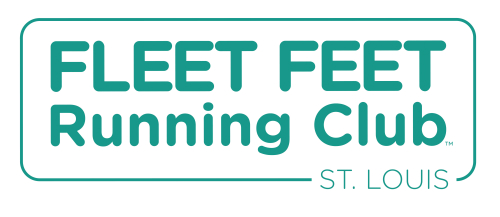 ---
WHY JOIN OUR 10k PROGRAM?
Train for the magical 10k distance with Fleet Feet Running Club! On one hand, completing 6.2 miles demands your respect and attention, but on the other, it isn't so far that you can't train for it—and complete several 10ks—in one season. It's one step beyond the 5k (or 3.1-miles) and a great segue to the half marathon distance (13.1-miles). Our 12-week, 10k Finish program is designed for the casual runner and our 12-week, 10k Fast program is intended for the experienced, competitive-minded runner.
Individualized training in a group setting. Fleet Feet Running Club's proven programs have served more than ten thousand participants. Our programs earn an average rating of 4.6 stars (out of five) and more than 80% of participants complete their goal race.
Experienced, professional head coaching. Our degreed and credentialed head coaches assess each participant's current fitness level, help them set reasonable goals, and ensure that they train at an appropriate level.
Group Camaraderie. Group training is like having a personal fitness support group. Our support group meets twice weekly.
An introduction to speed training. Speed training adds some spice into training. Our 10k programs teach the principles of speed training and develop workouts that are individually tailored to program participants.
---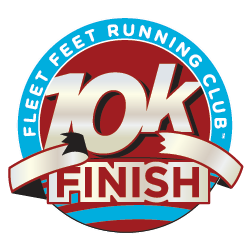 The 10k FINISH program is designed for the currently-casual athlete who is ready to take their training to the next level. We'll delve a little deeper into the subjects that will help you go beyond the 5k: speed training, nutrition management, hydration, safety & visibility, and more. Throughout the 10-week program, you'll gradually increase your mileage as you train mentally and physically for the 6.2-mile distance. As always, our great Fleet Feet coaches and mentors will be with you every step of the way.
---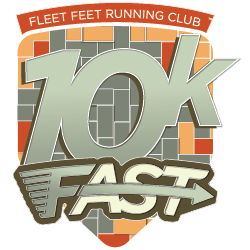 Despite being "short" from a distance runner's standpoint, the 10k is a difficult race distance to master. The 10k is a blend of speed and endurance that necessitates running only a few ticks slower than 5k pace, yet for double the distance. Our 10k FAST program is designed to prepare advanced competitors for the exact physiological challenges of the 6.2-mile distance, teach the body and mind how to push through the tough parts of a race, and perfect a pacing strategy that pushes the limits.
---
PROGRAM STRUCTURE
Our 10K Finish groups train Tuesday evenings (usually at 5:30pm) at Parkway Northeast Middle School and Saturday mornings at various St. Louis/St. Charles parks (usually at 6:30am). Members of our 10K Fast program groups train Tuesday evenings (usually at 6:30pm) at Parkway Northeast Middle School and Sunday mornings at the Forest Park Visitor Center (usually at 6:30am). Also, all team members - and their running partners, friends, and family - are invited to join us at our open Thursday evening and Sunday morning social runs.
---
REGISTRATION
This program begins on Sunday, August 2nd and concludes on Saturday, October 24th, 2020. However, we welcome anyone to join any program at any time and we can customize either program to prepare you for any goal race. Each week, the price for each program is prorated so late enrolees only pay for the remaining weeks. Of course, the more training you complete the more fun you'll have and the easier it will be for you to accomplish your goal. We strongly recommend joining your chosen program as early as possible.
To register for a 10K program, click here. The cost of the 10K Finish and 10K Fast is $120, but...
Active-level Fleet Feet Running Club members save on their registration fees, so please consider becoming a club member before registering. As an Active member, you'll receive a year-round 15% discount on FFRC training services and FFRC/Fleet Feet apparel, regular deals on other gear, and access to hundreds of new running buddies via the private FFRC Facebook page. Click here to become an Active FFRC member.
---
QUESTIONS?
Email ffrc@fleetfeetstlouis.com or call us at 855-786-5945 x715 and we'll answer them!