The 5th anniversary of the Bootlegger 10K Trail Race will be held on Sunday, February 6th, on upper Creve Coeur Park's Bootlegger's Run trail, which gets its name from the area's notorious reputation during Prohibition. According to one account, "Prohibition brought gamblers and gangsters back and clubhouses, roadhouses, and the notorious Creve Coeur Hotel provided havens for crime." Another history, offers, "Around the 1920's the area began to decline in popularity as gangsters and hoodlums began to frequent the saloons, restaurants, and nightclubs located at the lakefront. By the end of Prohibition, Creve Coeur was almost exclusively a gangster hideout." Today, Creve Coeur Park has regained its pre-Prohibition notoriety as a beautiful locale for enjoying nature. It is regularly filled with St. Louisans running or biking the trails, riding zip lines at Go Ape, sailing or rowing on the lake, or simply having a picnic.
The beautiful Bootlegger 10K course is primarily a single-track trail and includes plenty of turns, switchbacks, and hills. Look closely and you may see remnants of the Creve Coeur Lake streetcar line that brought ne'er-do-wells to the area during Prohibition. Add winter weather to that mix and the Bootlegger 10K will surely test your will against Mother Nature at her toughest.
To celebrate the 5th anniversary, the beloved finisher growlers are back! All finishers receive a custom-designed 32oz growler. Keep it lawful on the trails and you won't have to smuggle yours out!
Proud to support and partner with Creve Coeur Park based, Go Ape! A Treetop Adventure that is guaranteed to deliver laughter, smiles and a sense of accomplishment. Go Ape is perfect for everyone including friends, families, companies and parties. Our mission is to inspire everyone to live life adventurously.

Date | Sunday, February 6, 2022
Schedule
7:30am | VIP & free parking area's open
7:45am | Packet pickup opens
8:30am | 10K race begins
10:00am | Race awards ceremony
Location | Creve Coeur Park, 13219 Streetcar Dr, Maryland Heights, MO 63043
Course | Map | Elevation | The course is well planned with a 1.5-mile parade loop on Streetcar Drive to "naturally" sort the field by pace prior to entering the trail. Runners will complete a full loop counterclockwise and then return to the start/finish line at the old streetcar 'loop' building. Participants should be able to keep a pace of ~21 mins per mile. Dogs are not permitted on the course or in the race.
Finisher Growler | To celebrate the 5th anniversary, finishers will receive a custom-designed 32oz growler!
5th Anniversary Swag | In honor of the 5th anniversary of the Bootlegger Trail 10K we are bringing in an exclusive swag item. Add on the first ever Bootlegger 10K swag, a one-of-a-kind anniversary baseball tee for only $20!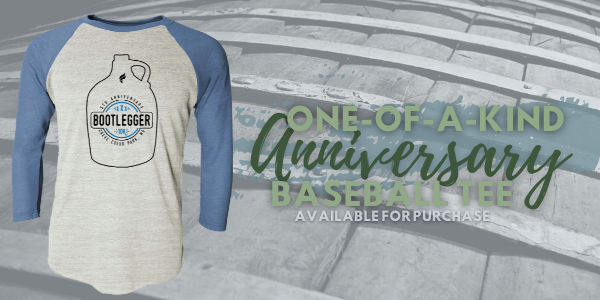 Registration & Fees -To avoid overcrowding the trail and allow for safe social distancing, the event is limited to the first 375.
$32 | 12/17 - 12/31
$38 | 1/1 - 1/19
$45 | 1/20 - Race Day
$3 | VIP Parking

Limited VIP parking is available to participants in the upper parking lot near the pre/post-race area. Proceeds from parking will benefit a local charity group. Participants who do not purchase VIP parking will park in the lower lots off Marine Ave and have a 1/2 mile walk to the pre/post-race area.
Packet Pickup | NEW packet pick-up location with extended hours!
Masks are required to be worn at Packet Pick-up. Participants can pick their packet and those of any friends and family members at of the following packet pickups:
If you are coming from out of town and cannot pick up your packet until race morning, please download and carefully read the Race Instructions (coming soon) before race morning. Your race number will be waiting for you at the race start.
Parking
VIP Parking

| Purchase VIP parking for $3 and help support a local charity (group to be named). VIP parking will be located in the upper parking lots off Streetcar Dr near the pre/post-race areas.

Free Parking

| Is available in the lower lots at Creve Coeur Park off Marine Ave. These lots may have up to 1/2 mile walk including stairs to access pre/post-race area in the upper portion of the park.
Awards
Awards will be awarded to the top three male/female overall finishers and the top three male/female in the following age groups: 19 & under, 20-29, 30-39, 40-49, 50-59, 60+.
Volunteer | Interested in volunteering for Bootlegger Trail Race? All volunteers will receive a finisher item and a gift card to Fleet Feet, along with refreshments and lots of thanks and praise! Have a group interested? Contact Hannah (Hannah.hughes@fleetfeetstlouis.com) for more information and details. Donations are available for groups of 10 or more.
EVENT POLICIES & FAQ:
No-Risk Registration - We understand these are uncertain times. Our intention is to host an in-person event. However, should the health situation change and we are unable to host the event, all runners will be able to defer to 2023 or run the event virtually. If the event is canceled prior to January 31, 2022, participants will have the option to choose between a refund, deferral, or run the event virtually. Registration is only available online. If not sold out, registration will be available in-person at packet pick-up and race morning
Will there be on course Aid Stations? Yes, there will be one on-course aid station BUT with minimal supplies and support. We highly encourage and recommend participants carry all hydrations and nutritional needs in their running pack.
Will there be on-course support? Yes, we will have course marshals and traffic control on the course. Athletic Trainers will be available at the finish line.
Are dogs allowed at the event or allowed to participate? We love dogs, but dogs are not allowed at this event or allowed to participate in the race.
Inclement Weather Policy: The safety of our participants and volunteers is our highest priority. If severe weather is present, we will post an update on the Facebook Event Page and at the top of this page by 6:45 am the morning of the event at the latest.
Refund Policy - No refunds will be given after January 23, 2022. Processing fees are non-refundable. Entries are not transferable to another event but can be transferred to another participant. Transferring registration is allowed through January 31, 2022. A $3 processing fee will be applied to all refunds and transfers.
What if I have a positive COVID-19 test or show symptoms of COVID-19? If you have a positive COVID-19 test or are showing symptoms (click here for a full list of symptoms) we ask that you do not attend the event. Participants who fall into this category, and have a positive COVID test will be offered the following options; defer to the 2022 event, or participate virtually after their quarantine period.
COVID-19 Status: Our intention is to be able to hold this event in person. We are working on plans to take all necessary precautions to make this a safe event during the COVID-19 situation based on the latest/greatest guidelines as the event approaches. As we finalize those plans and precautions and have them in place, we will include them in race communications closer to the race date. Participant safety is our number one concern, so if it is deemed unsafe to have an in-person event, the race will be switched to an all-virtual event. Should we have to hold the event virtually, we will automatically switch all participants to the virtual event and send details on how to obtain your race swag and submit your virtual times. If you do not want to participate in the virtual event, you can defer your entry to our 2022 event. We will contact all participants in the event that it goes virtual with further instructions.
QUESTIONS?
Please review the Race Instructions or email Hannah (hannah.hughes@fleetfeetstlouis.com).