One of the best parts about The Big Run over the past three years has been seeing how all the events come to life at the local level to support the national initiative. This year's Global Running Day celebration will look a little different.
Races may be cancelled, but running is not. On global running day, let's inspire the runner in everyone. This year we're going virtual—choose your own race distance and celebrate getting out there. You may be running alone, but we are still in this together.
Introducing My Big Run
My Big Run is personal. We understand each of you has unique goals, and we want to celebrate with you when you achieve them.
My Big Run is an inclusive celebration of getting out there and crossing your own finish line, despite the challenges we are all currently facing. We'll provide the support, encouragement, and know-how to keep you motivated along the way. You're about to gain a ton of new running buddies.
How are we going to make this happen?
We're going virtual. You have the option to choose your own race distance this year. Distances include: 1 mile, 5K, 10K, half marathon, full marathon. All distances and results will be included on our national results page. Your registration will also include the following: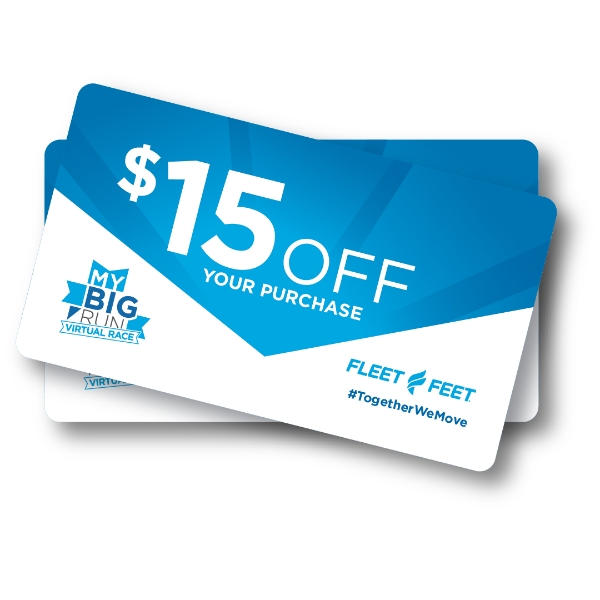 $15 VOUCHER - Redeemable at your locally owned and operated Fleet Feet, or on fleetfeet.com if you do not have a local Fleet Feet.*


VIRTUAL RACE KIT - Includes your virtual medal, print-at-home bib and photo props. We want to see you cross your finish line so we can celebrate with you!

TRAINING & TIPS - You may be new to running or walking and we're here to help. Get access to training content, tips, and our Fleet Feet

coaches for any questions you may have.
We are committed to carrying out an event that embodies the spirit of The Big Run, create a rewarding experience for customers, and ensure that Fleet Feet continues to lead efforts on Global Running Day.