This article focuses on Superfeet insoles, our leading insole brand. Insoles differ from orthotics and can correct imbalances in your feet for a fraction of the cost.
This article aims to answer our customers' most frequently asked questions regarding insoles*.
Let's get started.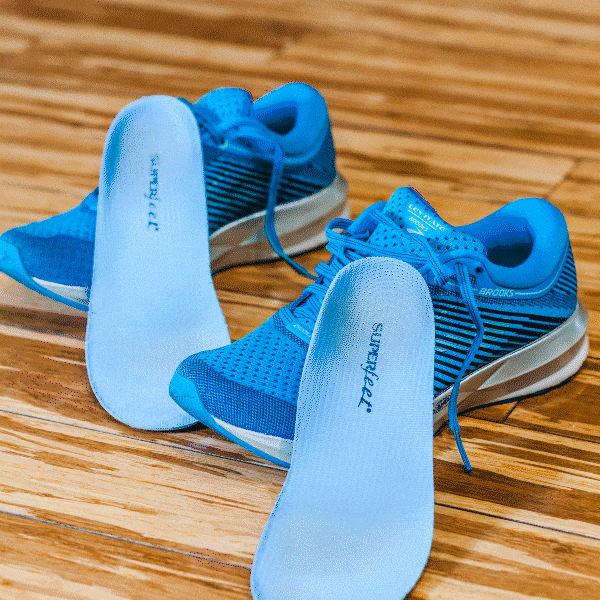 What is a Superfeet insole?
A Superfeet insole is designed and engineered from hundreds of biomechanic studies to help stabilize your feet. Our feet are used to having a three-dimensional surface underneath. Unfortunately our world - and even our footwear - has become quite flat. Superfeet adds a three-dimensional shape to our three-dimensional foot.
How does a Superfeet insole differ from an orthotic?
We hear this question often. An over-the-counter insole responds to the way we move and provides extra support to complement our movement patten or path. Superfeet insoles are not a corrective, medical treatment device. Instead, the company understands that everyone moves differently through their gait cycle and Superfeet insoles complement that.
Orthotics must be prescribed from a podiatrist or orthopedist, a process that involves making casts or digital scans of your feet—for about $400 to $600. 
Studies show that the nonprescription variety can be as helpful (or nearly as helpful) as custom ones for certain conditions. For instance, in a 2014 study in Musculoskeletal Care, people with plantar heel pain who wore prefabricated orthotics for eight weeks had the same reductions in pain and disability as their counterparts who wore custom orthotics—at considerably lower cost.
If today's shoes are designed for specific foot movements such as over-pronation, why would you need to buy the extra inserts? Wouldn't this just overcompensate the effects or would it actually be better?
The short answer: It doesn't overcompensate the effects. It complements them.
A running shoe with corrective technology such as dual-density medial posting prevents the shoe from wearing unevenly, but it doesn't necessarily prevent the foot from over-pronating within the shoe.
Take a look at a stability shoe. If you take out that sock liner, you'll notice that there is no shape. There is no arch mold. There is nothing inside that shoe. In order for your foot to have the benefit of that medial posting it has to pronate past a point of flat to get that benefit. Superfeet's shape provides rearfoot support. It helps support the shape of the foot, maximizing foot efficiency where your foot is; not waiting for your foot to meet it.
I've been diagnosed with Plantar Fasciitis. Which insole helps?
The short answer: Anything that is going to be comfortable to you. 
All Superfeet insoles are created with firm materials for stabilization and rear foot support. The deep, structured heel cup cradles the soft tissue of your heel to provide an extra layer of protection from hard surfaces.
Superfeet insoles are manufactured in different shapes, volumes, and materials but the goal is always the same: support and comfort. If it's comfortable to you, you are getting the stability you need.
What do the different colors mean?
That's where we come in. 
Using our three-dimensional fit id™ scanning system combined with our staff's trained eye, we can now make recommendations that are more accurate than ever before based on what we see during your gait cycle and the shape of your foot.
The colors represent different volumes and shape, meaning height of arch profile, deepness of heel cup and how much space that the insole takes up in the shoe. Based on what we see using our tools, we can recommend a color that will fit your foot, and help you find the one that is most comfortable for you.

How often should I change my insoles?
Insoles will last approximately 500 miles or 12 months (if you're using them on a regular basis), whichever comes sooner. Most customers will add Superfeet to a shoe that's already halfway through it's lifetime, so they can run in 2-3 pairs of shoes with a single pair of Superfeet insoles. More than half of Superfeet users own 3+ pairs of Superfeet insoles – different styles of Superfeet insoles for different shoes. But be careful and remember to track those miles, even in those shoes you walk the dog in or beat around in.
Should I take out the insoles that come with my shoes?
Absolutely. The insole that comes in your shoes is actually called a sockliner. You should always replace the sockliner that comes in the shoe with the Superfeet insole. That way you ensure the insole lays flat inside the shoe, and functions the way it's designed.

Do I need to cut or trim my insoles?
Yes. Full-length Superfeet insoles come in a range of 1.5 shoe sizes, and are meant to be trimmed to the length of your shoe. We will then bevel the edges of the insoles to ensure a perfect fit. 
If you weren't able to get your Superfeet trimmed in store, you can follow these instructions, or stop by any of our locations and we can trim them for you.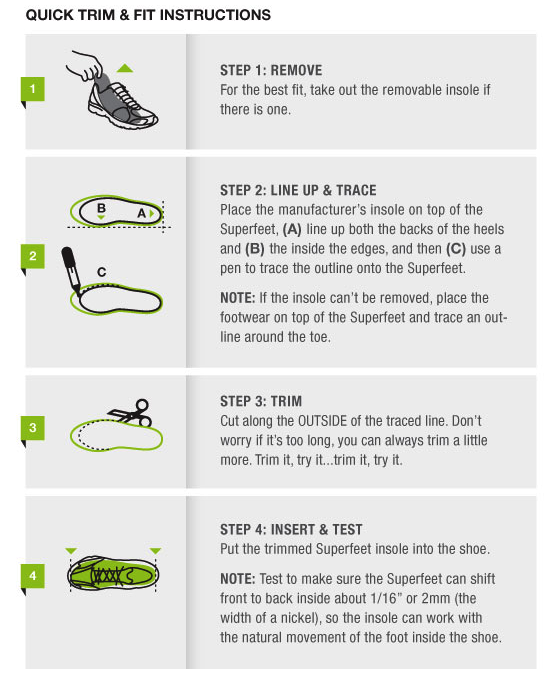 Should I be wearing insoles?
It's a common misconception that Superfeet should only be worn by people feeling pain or dealing with some sort of injury. Superfeet are actually designed to make you more comfortable, and your walking or running gait more efficient and pain free.

Many people believe their shoes are going to be uncomfortable or should be living in uncomfortable shoes, but that's not the case! Superfeet allows us to fine-tune how a shoe feels and the way our foot interacts with the ground to make things more comfortable. If you are uncomfortable for too long, that could lead to injury and those injuries can be compounded over time. 
Entertain the idea of trying on Superfeet the next time you're in our store, because it will really enhance the way a shoe feels.
*article written by Fleet Feet Chicago team