Runners are always seeking more. More miles, more adventures and more carbs. When it comes to running shoes, more cushioning has been the overarching trend in recent years. The On Cloudstratus 3 answers the call, offering not one but two layers of On's proprietary CloudTec cushioning. Double the cushion, double the fun, right?
Fleet Feet reviewers tested the On Cloudstratus 3 to get a feel for how it fits and performs. Read on to find out why one reviewer compared it to running on a springboard.
Spring into the stratosphere in the Cloudstratus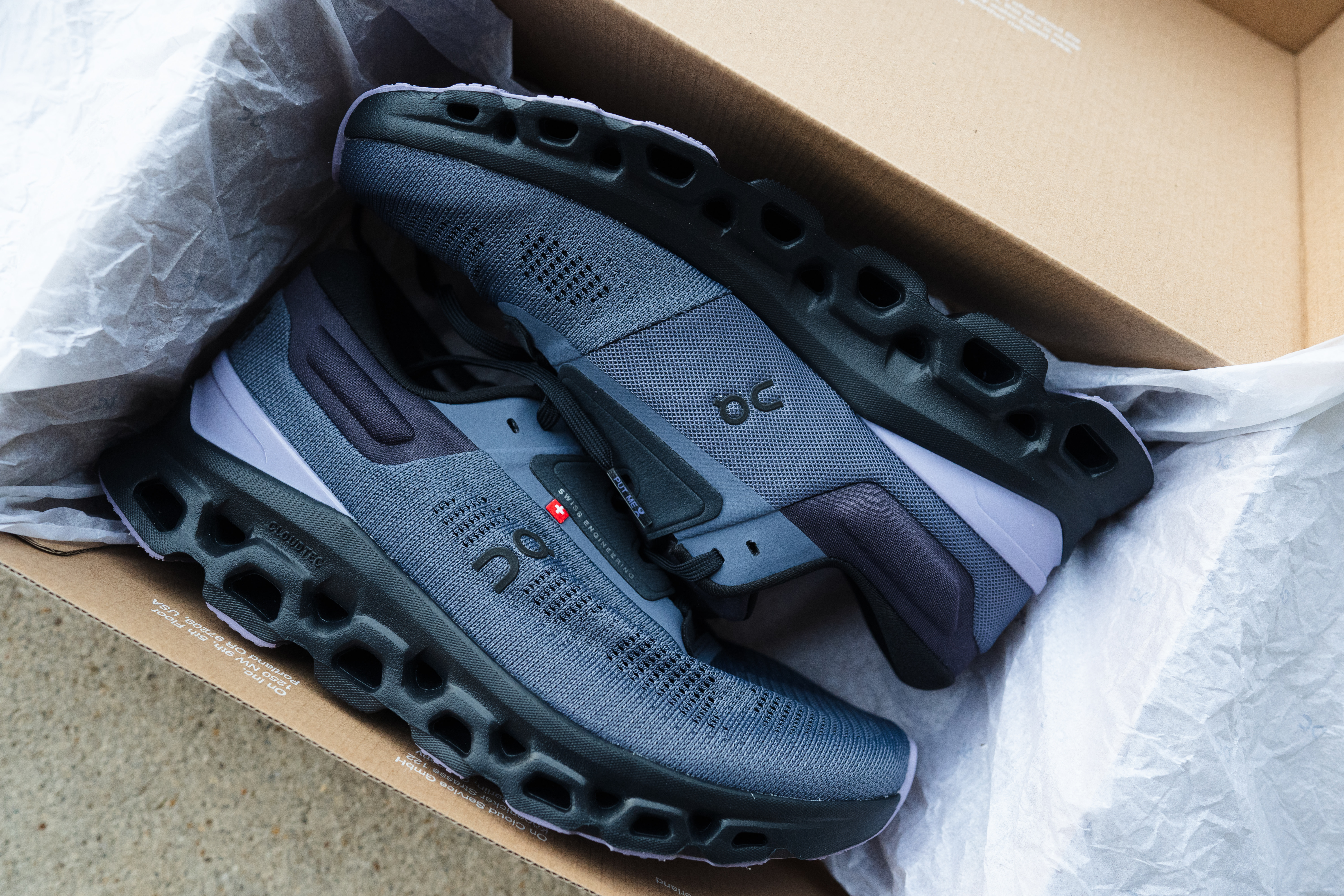 The On Cloudstratus is abound with innovative technology that offers a springy sensation and a smooth ride. The midsole consists of On's Helion superfoam, which combines rigid and flexible elements into the same foam compound. This foam is molded into individual pods underfoot, called CloudTech cushioning. Embedded inside all of this foamy goodness is a rigid nylon plate, called a Speedboard. As you land, the pods compress and, as you take off, the speedboard engages to spring you forward. The result? A bouncy ride that effortlessly rolls you forward.
"On continues to be on a roll making soft, smooth and inviting shoes," Nate says. "The Cloudstratus 3 feels really good to run in. It rolls nicely and has just enough oomph for a touch of pep."
Reviewers also appreciated the balanced blend of firm and soft.
"The Cloudstratus 3 has the type of cushion that feels like running on a springboard," Kate says. "The shoe isn't squishy, but the landings feel soft while the shape of the shoe rocks you forward. The result is an energetic feel with nice, smooth transitions."
A grippy rubber rounds out the bottom of the shoe for added traction on wet or slippery terrain.
Thick, plush upper holds you in
On shoes used to be known for their minimal designs and sleek aesthetic. While the On Cloudstratus 3 still looks sharp, it spares nothing when it comes to the upper. A thick, engineered mesh upper wraps around your foot while a plush tongue and heel collar add an extra layer of comfort.
"The heel cup in the Cloudstratus 3 is quite padded and built up, but it doesn't feel heavy," Nate says. "It adds a bit of extra security while feeling velvety-smooth. The tongue is one of the widest, thickest tongues I've seen in a shoe this year. It's gusseted so it doesn't move, and it's so soft that it feels as if a down quilt is laying atop my foot. But don't be mistaken—it's not too heavy or too warm. I found it to be very comfortable on a hot summer run."
While the shoe is categorized as neutral, reviewers noticed that the structured material of the upper, along with added overlays, add extra stability and security to the overall fit.
"The overlays around the midfoot feel a bit rigid, which adds some support around the midfoot," Max says. "The heel and ankle collar also go up a bit higher than I'm used to, which is great for a guy with weak ankles like me. The entire upper works together to provide a really supportive, lockdown fit."
Even more good news? The upper is made with 100 percent recycled polyester, making the Cloudstratus 3 an eco-friendly choice.
On Cloudstratus 3 vs Cloudstratus 2.0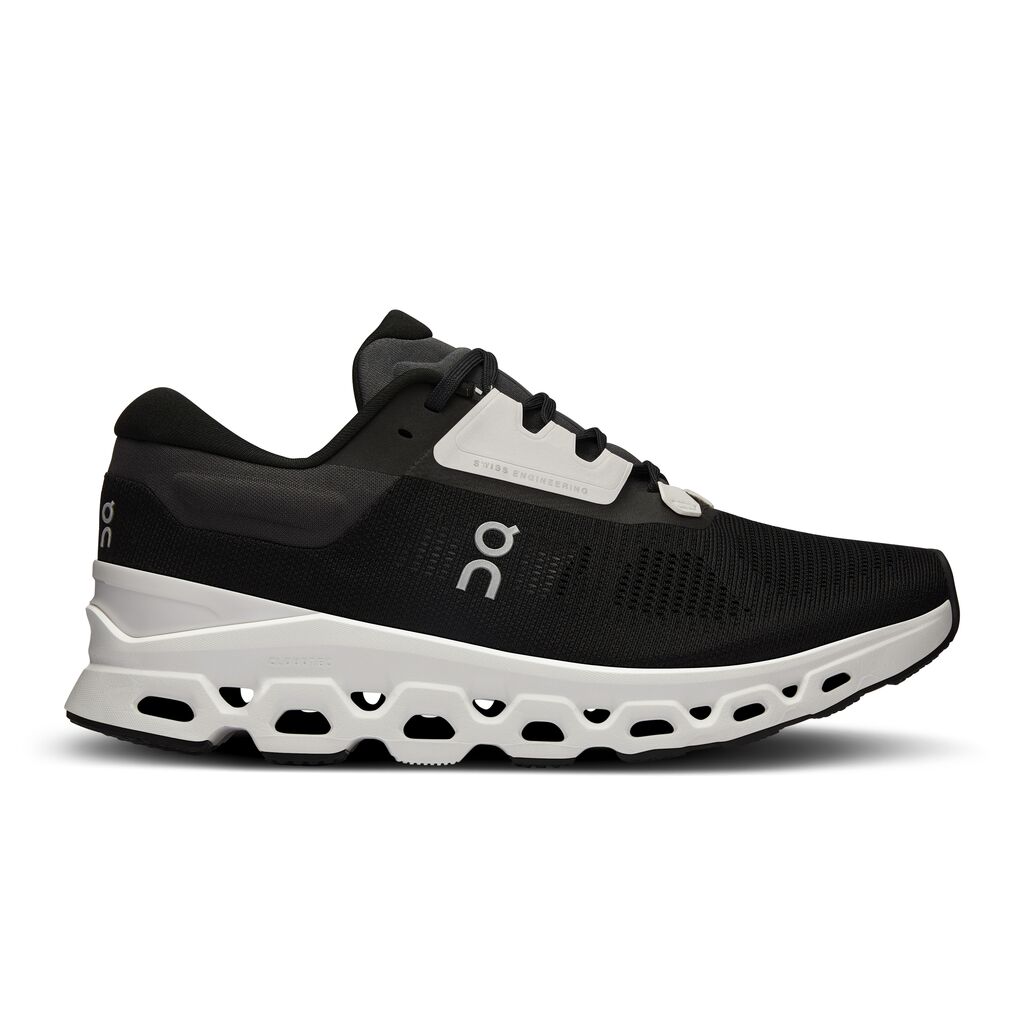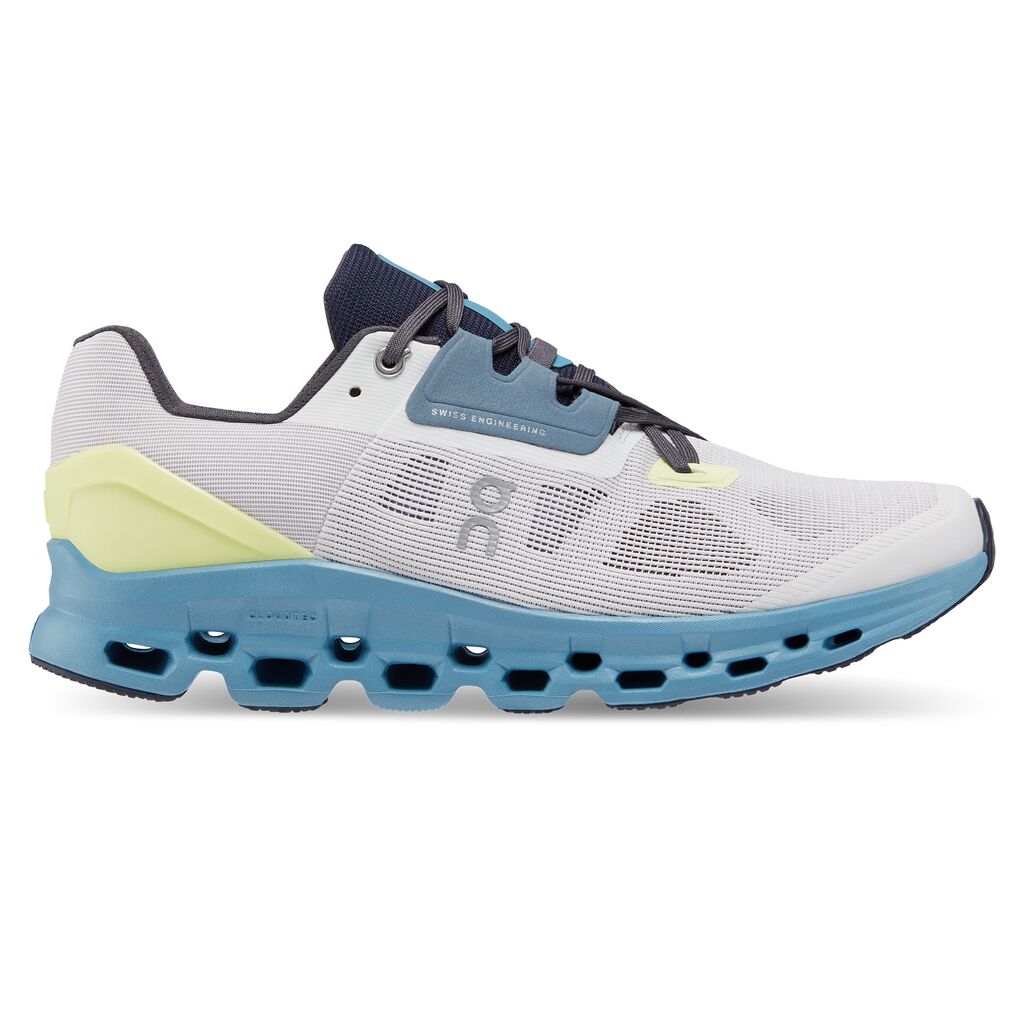 | | | |
| --- | --- | --- |
| Tech Specs | On Cloudstratus 3 | On Cloudstratus 2.0 |
| Weight | 8.9 oz (W), 10.5 oz (M) | 9.5 oz (W), 10.7 oz (M) |
| Heel-to-toe drop | 6 mm | 8 mm |
| Stack height (heel/forefoot) | 32 mm/26 mm | 30 mm/21 mm |
| Price | $180 | $170 |
If you enjoyed the previous version of the On Cloudstratus, you'll likely be a fan of the latest version, too. The Cloudstratus 3 maintains the same springy ride as the Cloudstratus 2.0 while simultaneously shaving weight and adding cushion.
The most noticeable difference between the shoes is the updated upper. On added foam padding in the heel for extra cushion and added overlays in the midfoot for a more secure fit. Plus, the Cloudstratus 3 is made with 30 percent more recycled content than the 2.0.
The Cloudstratus 3 has increased in both stack height and price, and both changes are in line with current industry trends. Given the added cushioning, softer materials and lighter weight, reviewers agreed that the 10 dollar increase is warranted.
How does the On Cloudstratus 3 compare?
We took a look at some comparable models to see how the On Cloudstratus 3 stacks up. Here's what we found.
The On Cloudstratus 3, Brooks Hyperion Max and ASICS Novablast 3 all have a balanced soft-to-firm ratio while adding a bit of spring to your step. While the Cloustratus 3 uses a springy Speedboard in combination with Helion foam, the Hyperion Max and Novablast 3 rely solely on their responsive foams to add a bouncy sensation.
"The Helion foam underfoot feels soft and smooth without feeling squishy," Max says. "The shoe provides a bit of pop, which I found to offset the fact that this shoe is on the heavier side."
While the Cloudstratus 3 has shaved weight since the last version, it's still a bit heavier than comparable models. All three shoes are relatively moderate in stack height when compared to other models that seem to be getting taller and taller as consumer demand for max-cushioning soars.
Who is the On Cloudstratus 3 best for?
The Cloudstratus 3 is versatile enough to be enjoyed by runners and walkers of all levels, thanks to its moderate stack height and balanced cushioning. Plus, it's springy enough to add some extra pep in your step on days where you need a little boost.
"The Cloudstratus is really a nice do-it-all trainer in a modern package," Kate says. "I recommend it to anyone looking for a workhorse shoe with a clean aesthetic. Runners who like a medium soft-to-firm shoe, as well as those who like a rocker sensation, will enjoy running in the Cloudstratus."
Because it's cushioned enough to handle plenty of miles, it's a great choice for those running long distances or those who spend long days on their feet. Reviewers pointed out the roomy toe box as an enticing factor for those who appreciate extra wiggle room.
"I recommend the On Cloudstratus for anyone needing a durable daily trainer," Max says. "The fit is generous throughout the toe box and the cushioning feels plenty durable."